Today, July 19, 2018, Binance has published new rules for charging fees on trading operations. The innovation provides for a complete waiver of discounts for paying fee in BNB by 2021. This year, the discount will be reduced by 2 times and will be only 25%. It means that most users will give the exchange not 0.05% of the transaction amount, but 0.075%.

Note that even a fee of 0.1% of the transaction amount is less than that of many Binance competitors.
The main feature of innovations from Binance will be the ranking of users by the trading volumes and the number of BNB, which they have on their exchange account. The division of users into groups will begin on July 21, 2018.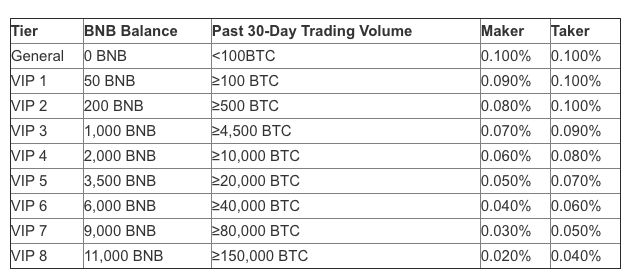 As you can see, the discount for the trade fee will remain, but it will be extremely difficult for ordinary users to obtain it. The trading volume is 100 bitcoins and higher for 30 days for the minimum discount of 10%. Far from everyone can boast such volumes.
By doing this, the exchange probably wants to stimulate institutional investors. Some 150,000 BTC for 30 days and the fee will be only 0.020%.
Trading fee increase does not scare us, because we have only 2-3 bitcoins trading volume per month. But this decision can turn against the exchange. After all, most of the BNB volume was connected with the fee payment on the exchange. Most users do not achieve 100 BTC volume per month. They will lose any motivation to pay fee in BNB. Will you remain BNB holders after complete discount cancelling?