Yesterday August 8, 2018, Christopher Franco (one of the creators of EXP cryptocurrency) published an ambiguous information on his page in Twitter. He claims that Binance requested a remuneration of 400 BTC from Expanse project team for EXP listing.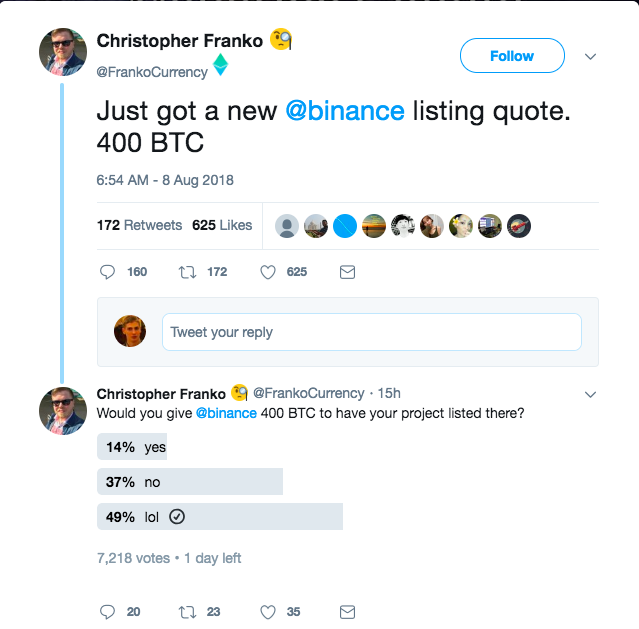 We would like to draw your attention to the fact that the EXP coin is already traded on such exchanges as Bittrex, Upbit, YoBit, and Poloniex. Christopher Franco hasn't reported about piquant financial requests from representatives of these exchanges. Probably, the "rules" of listing on Binance shocked him. Or maybe it was not the fact of a payment request that surprised him, but its size. Capitalization of EXP is approximately 960 BTC. That's why the amount of 400 bitcoins looks incredible.
We cannot be responsible for the reliability of the information published by Christopher Franco. But if this fact is confirmed, the Binance management will have to explain their position to the crypto community. This situation leads to the conclusion that Binance is ready to list any shitcoin just to receive a financial reward. What if a scam project offers generous sums for listing on the exchange? What decision will the Binance management make? We would like them to give us direct answer to this question.
Follow us on Telegram https://t.me/crypto_infobase, and be in touch with the latest news, guides, and predictions 😎