According to the information on official Bitcoin Cash Twitter page, BCH has been successfully upgraded today. Long-awaited hard-fork has been occurred.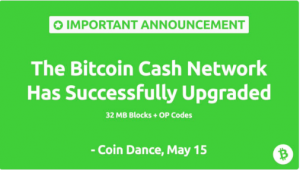 What to expect from this hard-fork? We do not know for sure. Some people have believed that BCH will fly to the Moon after the hard-fork, while others have promised to sell their BCH before the hard-fork due to possible dump. Now, price of BCH is constantly falling. Probably situation will be changed tonight. It should be noted that several months ago Calvin Ayre predicted a Bitcoin Cash price of 10,000 in May. Roger Ver believes that BCH is true Bitcoin. But in fact, BCH now repeats the movements of its "parent". And it seem to be unreal for it to achieve such a price. But everything is possible , do not forget about it. Below are some words about BCH 15 May hard-fork itself.
So, what's new? BCH block size has increased to 32 mb, instant confirmation of transactions has also appeared. Another feature is the introduction of operational program codes, which according to the developers, "will bring the project closer to Ethereum." Well, let's see how things go.