Ran Neuner is a crypto trader, TV host, blogger who you may know as Crypto Banter, co-founder of the consulting and investment company Onchain Capital. The man has been in business for many years, and in 2017 he caught a wave of popularity thanks to bitcoin. He continues to earn on this in 2023. He is respected even by experienced market participants, but what real capital lies behind his authority and popularity?
Ran Neuner Income and Salary
The financial analyst began his career in 2001 when he became one of the founders and directors of the South African marketing agency The Creative Counsel. Even then, he began to receive a large salary, which gave him the opportunity to invest. When he sold the company, he decided to invest part of the released money in cryptocurrency.
In 2017, amid a bull run in the cryptocurrency market, he founded Onchain Capital, which to this day provides consulting services and helps to invest in digital assets. This is the main source of income for a financial expert.
That same year, Ran launched his own TV show on CNBC. It became the highest rated show about finance. The TV channel generously pays the author and presenter for this.
Does Neuner make money from trading? Most likely, he is engaged in this form of financial activity, however, to keep himself in good shape. Trading is important to him, but this income is only a small part of his annual profit, which we estimate at $500,000.
His Crypto Banter project is primarily educational and informational. In addition to Ran, several other experts work there, so even the mega-popular YouTube channel cannot be called a blog. The money that the platform brings is used to maintain its effective work.
The trader does this not only because of humanity and the desire for everyone in the world to make money. He is a successful businessman and benefits from the project. First of all, this is a very strong marketing ploy. More and more people are getting to know about him and Onchain Capital.
Ran Neuner's Crypto Portfolio
The South African expert has a lot of cryptocurrencies on his wallets. He is a fan of bitcoin and constantly increases his amount in the account. He does not say exactly how many coins he managed to buy, but the bitcoin equivalent of his crypto assets can be 100 BTC. Given his experience and estimated net worth, this figure seems very logical.
Here is one of Ran's most recent reports on his long-term trade: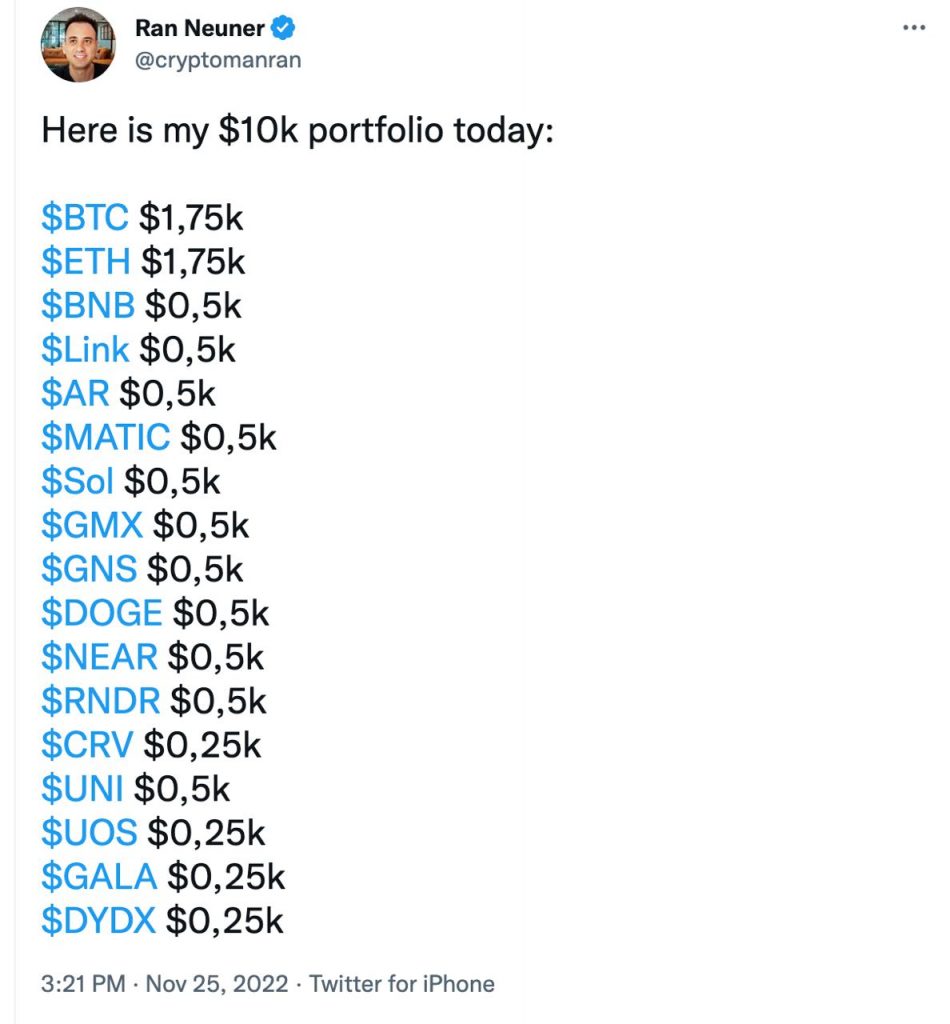 In fact, he has more coins for a larger amount of money. However, we believe that in such proportions the cryptocurrency is distributed in his investment portfolio.
Ran Neuner Actual Net Worth (2023)
Neuner allegedly made its first million dollars after the successful sale of The Creative Counsel. In the future, his net worth constantly grew.
The man does not post luxurious villas and expensive cars on social networks. However, this does not mean that he is not rich enough. Most analysts agree that his net worth is around $10 million. He keeps about 20% of this amount in cryptocurrency. Most of his income is a competent investment activity. It makes no sense for him to engage in a demonstration of wealth on Instagram, because this will not increase his capital. This is the lot of bloggers and traders who publish signals.