A new survey entitled "Untapped Opportunities: Games, Virtual Goods, and Blockchain" conducted by Vorhaus Advisors found that only one out of four adult Americans are familiar with blockchain technology. The survey further showed that 48% believe that Bitcoin blockchain are one and the same, and almost two-thirds equate digital currencies with blockchain.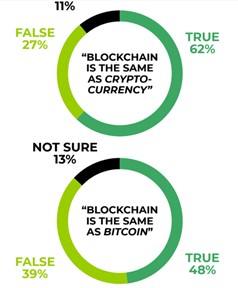 The Los-Angeles-based digital media consulting company conducted the survey in order to check users' level of interest in games' blockchain-enabled features. Among the sample population of more than 2,000 adults, only 25% have used blockchain products and services.
Although the numbers may seem dismal, they do not change the fact that the online gaming world is beginning to use blockchain technology; and soon, more and more people will be aware of it and its products and services.
Online Gaming on Blockchain Technology
While other industries suffered great losses during the COVID_19 pandemic, the online gaming industry boomed with the implementation of lockdowns and work-from-home directives in many countries. With this, online gaming needs a technology that can securely handle the massive amount of date it is producing.
And with the survey revealing that 51% of gamers want to make money off of playing games and 63% are willing to play more games if they can earn through them, blockchain technology has become the perfect fit. This is made possible through the tokenization of the Bitcoin SV blockchain, allowing gamers to use tokens to trade and earn revenues.
"Blockchain enables new business opportunities for game companies, due to its ability to enable the creation of in-game digital assets and collectible one-of-a-kind items that players can own. It can also facilitate player-driven in-game services, and provides a foundation for secure, verified peer-to-peer transaction," Eileen Brown, a blogger and social media consultant with ZDNet, explained during the CoinGeek Live 2020 panel discussion on how social and content creators can move on-chain and make money.
Watch out for the next CoinGeek Conference in April 2021 to be held in Zurich, Switzerland.