Binance, a world leading crypto exchange, is planning to offer OCO orders. But it is not known at the moment, when such a feature will be introduced. Such intentions were expressed by CEO Binance in his response to one of former users of the exchange, who complained about the lack of such a possibility. According to the user, OCO should ensure "full trade control".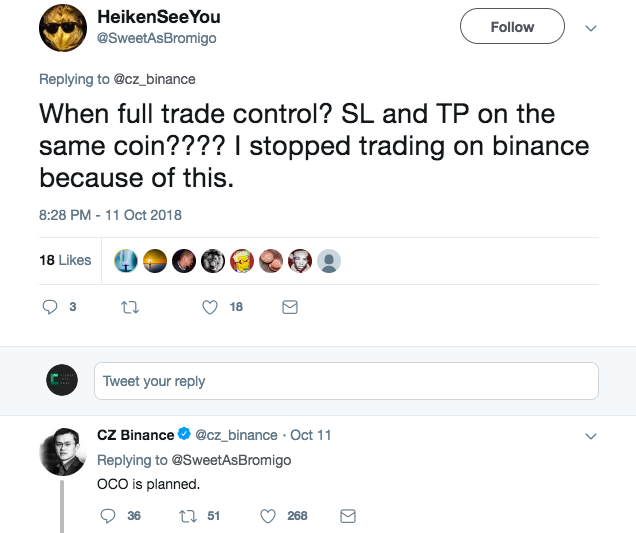 What is OCO Order? One-Cancels-the-Other Order (OCO) is a combination of a stop order with a limit order. It allows users to place both take profit & stop loss targets. For instance, if a cryptocurrency is trading between $200 and $220, a trader could place this type of order with a limit order above $220 and a stop order below $200 (a market order will be triggered). Once the price of a crypto breaks above resistance or below support, an appropriate order is executed and the other order is automatically canceled. Automatic cancelling occurs when the corresponding order is executed at least partially. If you cancel one of orders manually, you have to do the same with the other order.
At the moment, OCO option is available, in particular, at Bitfinex, and BitMEX.
By the way, Binance has recently listed RavenCoin (RVN).
Follow us on Telegram https://t.me/crypto_infobase, and be in touch with the latest news, guides, and predictions!