Written by: Gregory S Mathew
With bearish market sentiments still prevailing over the crypto space, everyone involved is anxious to know ' if the bulls will make a sweeping comeback'? Although recent developments in the space don't provide conclusive evidence for this statement, it does suggest the market is unifying which could bring some much-needed stability to the space.
Why are M&A deals significant?
It's easy to get carried away by the incredible growth witnessed by blockchain and crypto over the past decade, so much so, that sometimes people forget the market is still in its nascent stages. The entire market cap of cryptocurrencies is $130 billion right now, which pales in comparison to the $6.4 trillion assets under management of Investment company Blackrock. And as with any nascent space increased M&A activity, may herald the market is maturing and consolidating and is moving past FUD stages.
Will M&A activity take off?
As with any nascent space that exhibits incredible promise, the M&A activity in the crypto space has been consistently higher each year. M&A activity in the space has consistently increased year-on-year, with the highest recorded growth being in 2018 at 85%. In 2019, 11 M&A deals have been observed so far, which is impressive considering the market is still recuperating from its dramatic downfall last year.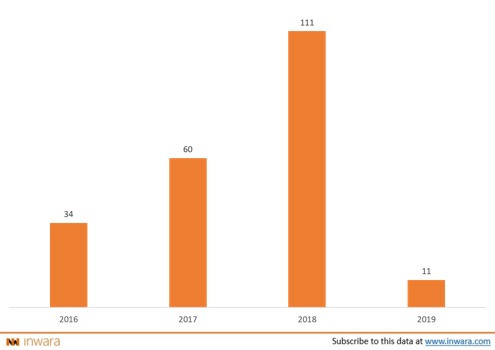 Trading and investing leads the pack
Among the various sectors in the crypto market space, Trading and Investing sector leads the pack in M&A activity, with 40 deals being observed to date which is akin an impressive 14% of all M&A activity. Trading and investing sector is closely followed by allied sectors such as Financial Services and Fintech with 31 and 22 deals respectively.
Surprisingly Financial Services sector which leads the market in terms funds of raised ($2.6 billion raised to date) and by number of ICOs (579), came second in terms of M&A activity. This could indicate Trading and Investing sector is consolidating at a faster pace than other sectors. The top three sectors combined contribute as much as 32% of all M&A activity in the space, indicating these sectors are maturing faster than other industry sectors like pharmaceuticals or sports, which observed just one deal each.
Kraken's blockbuster deal in 2019
Among the numerous M&A deals to take place in 2019, Kraken's acquisition of UK based Crypto Facilities was noteworthy for two reasons. Firstly, even though the exact valuation of the deal wasn't disclosed, Kraken in an official press release revealed it acquired Crypto Facilities in a nine-figure deal which implies it was north of a $100 million. Secondly, this deal is the latest in a slew of acquisitions made by crypto trading startups.
In retrospect, Kraken has already acquired five blockchain and crypto companies like trading and portfolio tracking platform Cryptowatch, digital wallet-funding service Glidera, and three bitcoin exchanges such as Coinsetter, Cavirtex and CleverCoin.
Exchanges will likely make a slew of acquisitions
Similar to how Kraken made strategic acquisitions in the crypto space, Coinbase, a rival crypto trading platform has acquired as much as eleven blockchain and crypto startups. From it's acquisition of Earn.com for $100 million to its latest acquisition of marketing API company Blockspring, Coinbase is spearheading the crypto space in M&A activity.

Exchanges are swiftly gaining more popularity as there is paradigm shift in people's perspective. Cryptocurrencies and blockchain are being taken seriously by established Financial institutions and governments alike. Which has opened the floodgates to retail investors, looking to invest in cryptocurrencies.

Trading platforms like Coinbase, Kraken are acting as a bridge between the fiat and crypto realms. Newbies to the crypto space, want to invest in crypto but using fiat currencies and when would also like to cash out, once a token price surges. Which is why Exchanges are strategically acquiring blockchain startups that could either give their own platform an edge over the competition or augments their platform for user-friendliness.

Tech giants entering the space
This year is also significant as it could be the year when tech giants in the space start exploring options in crypto and blockchain as it became clear with a recent acquisition made by a tech giant.
Social media behemoth Facebook recently acqui-hired a majority of the employees of blockchain research company Chainspace. Chainspace is a UK based blockchain startup that was founded by researchers at University College of London. The startups aims to augment blockchain technology enough to rival current financial systems and is also exploring use-cases for the technology beyond the financial ecosystem. Last year Facebook also revealed that it might introduce its own stablecoin and integrate it into WhatsApp messenger platform. This development, according to Facebook, is to target the Indian remittances market which is valued at a whopping $69 billion.
As a Facebook spokesperson was quoted saying about the deal "Like many other companies, Facebook is exploring ways to leverage the power of blockchain technology. This new small team is exploring many different applications. We don't have anything further to share." also adding "Our ultimate goal is to help billions of people with access to things they don't have now – that could be things like healthcare, equitable financial services, or new ways to save or share information."
It may be concluded from these statements that Facebook is taking the technology seriously and believes it has several potential applications in various industry sectors. But Facebook is hardly the only Tech giant entering the space. Amazon and Microsoft recently revealed their own cloud-based blockchain platforms that enable enterprises to configure their own blockchain network with just a few clicks. Industry veteran IBM had a significant contribution to the development of Hyperledger Fabric.
Why 2019 could be the year of M&A deals
As leading tech companies such as Amazon and Microsoft are entering the space, it could be an indication that more companies will start integrating the technology in their ecosystems. For an established company to catch up with the latest technology such as blockchain and then integrate it into their ecosystems could take years of R&D. An easier and much quicker way for established companies is to acquire leading companies in the blockchain and crypto space and integrate their intellectual property or use their platforms. As more established enterprises realize the potential of blockchain technology, in an effort to stay ahead or catch up to the competition will likely leading blockchain companies.