Callisto is an independent cryptocurrency with its own blockchain and network. It has received its name from one of Jupiter moons. All holders of ETC Classic on official wallet (Classic Ether Wallet) and some exchanges received 1 Callisto coin (CLO) for 1 ETC (that is, in 1:1 ratio) at the beginning of March, 2018. It was a good airdrop, wasn't it? By the way, it was one of factors of ETC price growth in February last year.
Release of Callisto (CLO) and its Price Graph
Soon after snapshot on the block 5,500,000, occurred on March 5, 2018, CLO became available on several crypto exchanges, including Youbit (see updated list below). In the spring of 2018 it was announced that the official wallet of the coin is Classic Ether Wallet.
You can see CLO price graph on the image below (or check the latest graph here).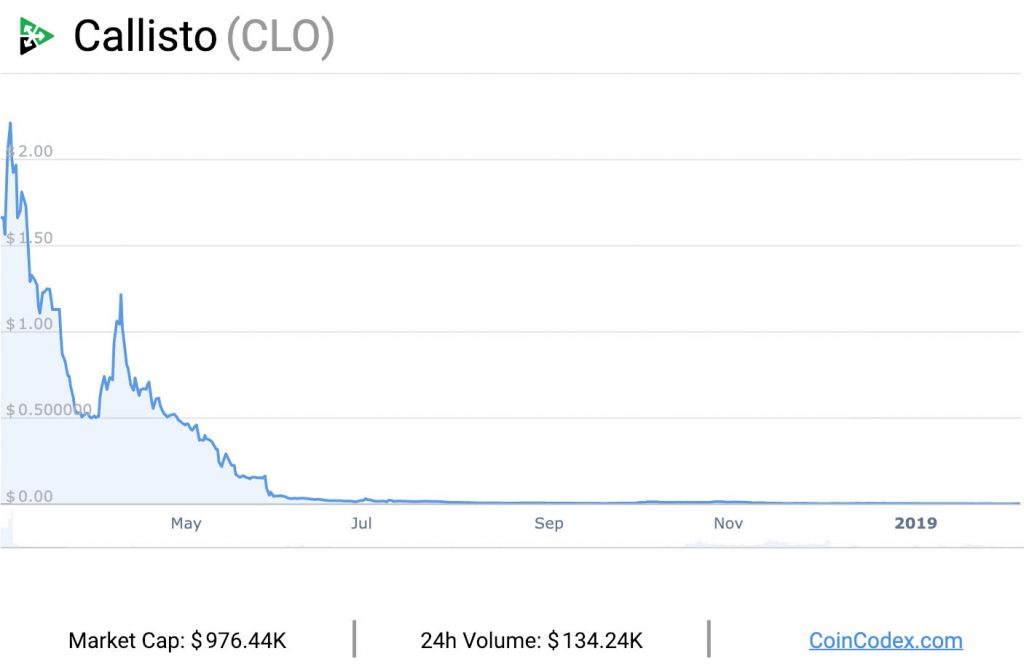 Like the cryptocurrency market in general (especially Ethereum), CLO price decreased in March-April 2018. Then the market recovered, but in summer its capitalization decreased again. Th coin significantly significantly decreased in price. As of September 2018, one coin costed only about $ 0.005 (half a cent). As of beginning of 2019, its price is about $0.003-$0.004.
The inevitability of Callisto's price drop was obvious. This is a feature of the first stage of forks' development in today's realities. But we think that everything is not so bad. First, Callisto is not yet represented on many leading crypto exchanges. Listings on these exchanges will significantly strengthen its position.
Callisto Network Features
Callisto Network is a decentralized, open-source blockchain platform. It differs from others in that it functions on the go-Ethereum source code.
Here's what you need to know about Callisto Network:
using the Cold Staking protocol (its launch is expected soon), thanks to which users are rewarded for the fact of owning CLO cryptocurrency;
the possibility of free monitoring and auditing of smart contracts;
Callisto ecosystem is independent and self-financing;
network scalability, which is open for continuous improvement;
transparency of financial activities.
Callisto Official Website
The official website of Callisto coin is https://callisto.network/ . Here you can find Road Map, technical information about mining and mining pools, information about supported wallets, block explorers, and much more. In addition, you can read latest Callisto news on Twitter page of its developers.
Callisto Network News
In the third quarter of 2018, ETC-CLO exchange channel was introduced into the network. This significantly influenced the functionality of the entire ecosystem and had a positive impact on the price of the cryptocurrency. On 11 November 2018, the hardfork in the network is planned to be done. After that Cold Staking protocol will begin functioning. We are confident that this will encourage users to purchase CLO cryptocurrency. As for the planned implementation of the address abstraction, blockchain-technology specialists will appreciate it more than ordinary users. However, the fact that the network is constantly improving is very important for attracting investors and promoting the product.
Constantinople (the grand update of Ethereum) is also important for the Callisto Network. During the first quarter of 2019, it will be integrated into the Callisto blockchain.
CLO Price Prediction
As the practice showed, latest forks of cryptocurrencies weren't very successful. Everything depends on the work of developers, advertising campaign, and usefulness of proposed novelties of the coin. The main innovation of the new platform is a cold staking protocol, which makes it possible to freeze a certain number of CLO coins for the period of time specified in the smart contract and to receive a certain profit. This is like you use a bank deposit account. In addition, network offers a completely free service to audit smart-contracts for developers to eliminate vulnerabilities and avoid hacking.
Now the coin is available on the following exchanges:
Stocks.exchange (STEX);
OOOBTC;
Yobit – trading is possible, but deposits and withdrawals are not available;
Sistemkoin (poor volumes);
Exrates (very low volumes);
BiteBTC (very low volumes).
HitBTC is closed for deposits, withdrawal, and trading, but according to Callisto.network, the coin "coming soon" there (this process has been under way since summer 2018).
Developers announced plans for development and are following this plan (see White Paper and Road Map on the official website).
The forecast, which is provided below, is quite objective given the current realities of the market. But there is also a possibility that in case of listing on the top crypto exchanges, it will show good price. This is the cryptocurrency that is worth following and on which you can make good money. At the moment, in our opinion, this is a good option for long-term investing. The price has already reached the bottom and, most likely, it is waiting for the way up. But do not forget that the price decrease has led to a strong outflow of users. Recovery will not be fast.
You can see our Callisto 2019 price predictions in the table below.
| | |
| --- | --- |
| Period | Callisto Price Prediction |
| Spring 2019 | 0.004 USD |
| Summer 2019 | 0.006 USD |
| Autumn 2019 | 0.008 USD |
In 2020, growth should be more intense. But, in our opinion, ATH, which was shown after the airdrop, is so far out of reach, even for such a long period.
P.S. This Callisto (CLO) price prediction is our estimation. The forecast shows the maximum prices that are possible during the specified period. Keep in mind that the cryptocurrency market is periodically subject to corrections. Also, the situation on the crypto market may be affected by state regulation.