TOP became a pioneer on the new Huobi tokensale platform – Huobi Prime – which is similar to Binance Launchpad. It created a brouhaha among users, so few people could buy it at this stage. However, the coin is available for regular trading. Should you buy it?
What is TOP Network?
This is a decentralized open communication network which provides multiple cloud communication services, including messaging, calling, VPN, CDN, IoT information sharing, etc. Thus, it has BitVPN Dapp, a decentralized VPN service. They are also aiming to build TOP Messenger, a blockchain application with functions similar to VeChat, Viber, and Telegram.
TOP Network is also a blockchain platform which can be suitable for real-world businesses. It features instant transactions, 3-layered ledgers, 3-layered sharding, and zero fees for settlements.
Actually, the platform consists of two independent but interconnected subplatforms:
network for cloud communicating;
public blockchain platform.
Their Whitepaper can be obtained only after indicating your email, they will send you the link to the document.
According to the official platform's website (topnetwork.org), a bunch of investors have placed their capital in the startup. Among them are Fenbushi Capital, NEO Global Capital, Ontology Global Capital, Starwin Capital, Elysium Venture Capital, Qtum, and others.
TOP Token
This is a currency which shall connect all the parties inside the ecosystem. It can be used in two token economies existing in the subplatforms mentioned above. The coin is available for mining.
Token distribution is as follows:
Team – 15%
Foundation – 15%
Contributors – 22%
Mining – 38%
Business partners, advisors, marketing – 15%
Don't confuse TopNetwork and TopChain coins. Some people mistook these assets on the day of TOP listing on the exchange. The result was staggering – look at the screenshot below.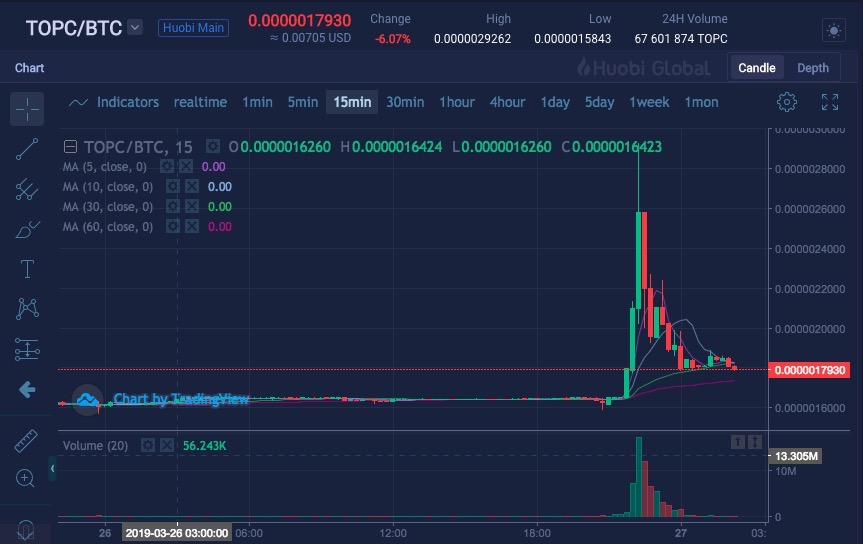 TOP Price Prediction 2022-2023
Although some traders expected this, Huobi Token did not fall after the end of the third round of tokensale on Huobi. The reason is that TOP ordinary trading started almost immediately after the tokensale in TOP/HT pair.
At the time of posting, it was traded at 0.0099 USD, that is 4 times higher than the price of the 3rd round of the tokensale (The prices for the rounds were capped at $0.00177, $0.00213, and $0.00255 respectively).
As for price prognostication, we suppose that the cost of the token will decrease in the near future, however, later it will be pumped again. Such events as releasing new DAPPs, potential switch from testnet to mainnet, release of the decentralized messaging app (this event scheduled for Q3 2019, according to the roadmap) may serve as surging catalyzers.
To predict its price in 2020 we should look at fundamental factors. If the team fulfills al the goals set in the roadmap for 2019 and announces promising plans for 2020, next year we will see the conquest of new heights.
Disclaimer. This forecast shouldn't be treated as an absolute truth. Allocate a little time for independent analysis of the coin if you are going to invest in it.