What is Electroneum (ETN)? This is a mobile cryptocurrency. The project is rather non-standard. In order to assess the prospects of the ETN token, we need to understand the features of this mobile platform.
Electroneum Ecosystem
Electroneum is a system for making instant payments between customers and sellers of goods and services. The mobile platform is on the stage of improvement but already has a good functionality. It is a conventional mobile application.
At the time of writing, Electroneum is available for Android. The app version for iOS is under development (test version has been approved by Apple).
Anyone who installs an application on his / her smartphone will be able to make payments in ETN cryptocurrency. The developers promise that soon you can also easily send Bitcoin from your smartphone. In fact, the Electroneum application is also a crypto wallet. It is very convenient. But we cannot say anything definitively about of the wallet's safety.
In the nearest plans of the company is the creation of an e-commerce system, which, if desired, can be integrated with payment terminals.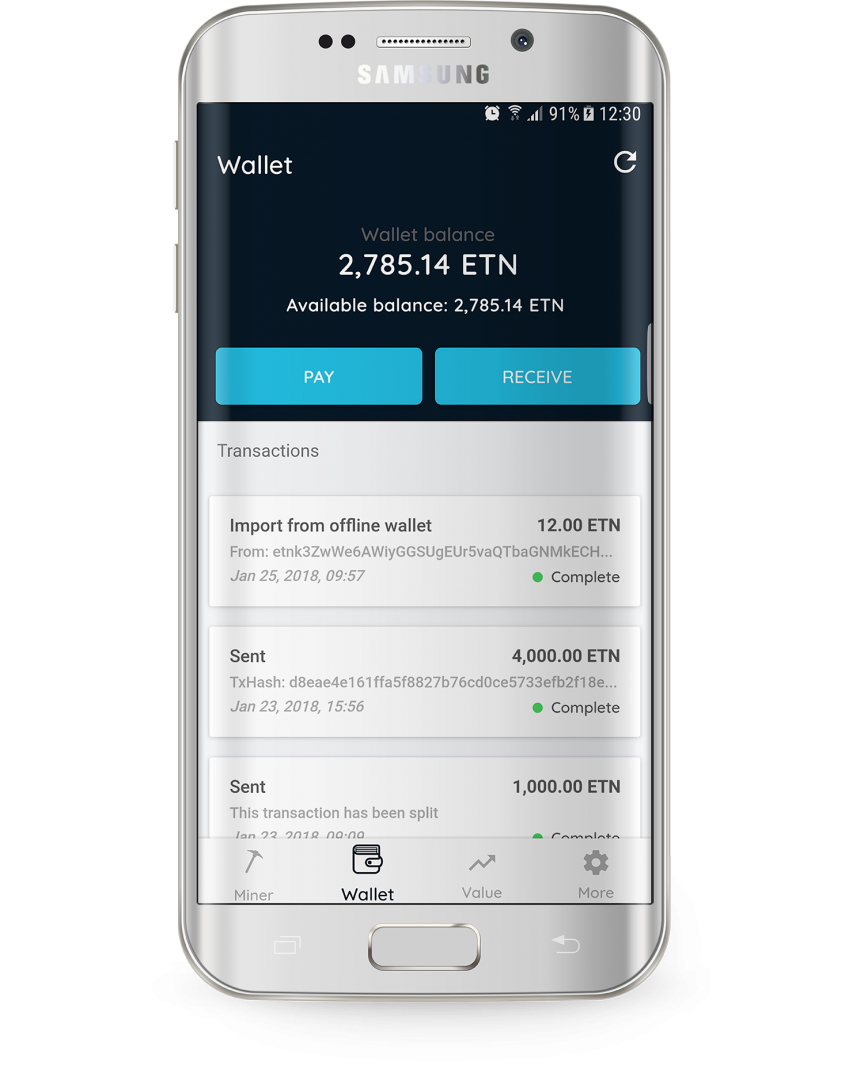 Electroneum (ETN) Cryptocurrency
The cryptocurrency is a means for instant payments, as well as an e-commerce system. The developers believe that their token will soon become a popular means of payments.
Mining of the crypto is quite unusual. If you download Electroneum app, you will get a mining farm in your pocket. We cannot say that this is a very profitable thing. But constant earning small ETN quantities is nice at least.
Where to buy Electroneum (ETN)? According to Coinmarketcap, you can find it on the following crypto exchanges:
KuCoin;
HitBTC;
Cryptopia;
Bitbns;
Coinbene;
Cryptomate;
Liquid;
TradeOgre & some others.
As you can see, the cryptocurrency is not available on the most popular exchanges (like Binance, for instance). This means that ETN has a way to go.
Electroneum News
Users of the mobile cryptocurrency are waiting for its listing on top exchanges. Many forumers rumoured about a high probability that ETN would be listed on Coinbase by the end of 2018, but something went wrong. Nonetheless, the last quarter of 2018 was fruitful for the project, since in November last year the ETN token hit the Liquid platform.
We are especially interested in another thing. On 5 October 2018, company representatives announced the introduction of KYC (know your customer) procedure. This should help the project to move forward and offer ETN as a form of payment for goods, services and products. Hence the crypto will probably gain mass adoption.
Against the background of quite good news for the project, we want to draw your attention to the fact that the Electroneum website does not indulge users with information about events. The last news about the mentioned KYC-compliance was published on 5 October (last year). News once a 3-month period? Our website publishes the necessary information much more often.
The latest news in Q1 2019 were as follows:
The first atomic swap with SimpleSwap.
Providing the ability to purchase ETN with PayPal on CryTrex.
Launching PrestaShop plugin.
ETN Price Prediction 2019-2020
Electroneum token is one of those altcoins, which significantly decreased in price during the summer of 2018. The crypto dropped by 30 times. We believe that this is due to the fact that the project platform hadn't had full functionality. Some Reddit users think that this crypto is the future, in particular, due to a mobile miner and instant payment technology. In addition, ETN is a very searchable cryptographic currency in Google and has over 2.5 million registered users.
From the beginning of 2019, according to the plans of the Electroneum team, the platform should operate in full. This should help the cryptocurrency become more stable.
Top exchanges have not yet listed the mobile-based coin. We expect this to happen within 6 months with the crypto's growth caused by listings.
Of course, not everything is so simple. In our opinion, the project does not have a sufficient information base. Its website is unlikely to attract serious investors. The developers' plans to engage 100 million users look too optimistic. However, the launch of the iOS app is expected soon, this is a promising sign.
Well, will Electroneum rise? You can see our 2019-2020 forecast in the table below.
| | |
| --- | --- |
| Period | Electroneum (ETN) Future Price Predictions |
| Early 2019 | $0.007 |
| Mid 2019 | $0.010 |
| Late 2019 | $ 0.012 |
| Early 2020 | $0.015 |
The token rate in 2020 can show pretty good dynamics. This product is dependent on the mass adoption but very convenient for ordinary users.
Disclaimer: We have expressed our opinion regarding the prospects of this cryptocurrency. Your opinion may differ from ours. You should not make serious investments based on one point of view.