Forks of cryptocurrencies have become a mainstream today. Bitcoin Cash, Bitcoin Gold, MoneroV, Callisto …, this list can be continued indefinitely. A completely new feature is a fork of fork. In February 2018, Litecoin Cash was born, its father, as you probably guessed, was Litecoin, and his grandfather was Bitcoin. Below we will tell you all basic facts you need to know about Litecoin Cash (LCC).
Prehistory
The decision to create the fork was made in December 2017 and was announced to the general public in early February 2018. The developers attracted the attention of people by various "goodies". They promised a 90 percent reduction in commissions for transactions, an accelerated mechanism for confirming transactions and the possibility of mining with GPU rigs.
Key Features of Litecoin Cash
The fork of Litecoin Cash occurred on February 18, 2018. It is not supported by the developers of the maternal cryptocurrency, who have repeatedly explained that they have nothing to do with it. On the Internet, you can find information that the creators of the LCC are scammers who want to mislead people. However, this is not so. They never concealed their unofficial nature.
The main differences between LCC and LTC are shown in the table below (this data was taken from Litecoin Cash official website).
| | | |
| --- | --- | --- |
| Key Features | Liteсoin | Liteсoin Cash |
| Max Supply | 84 million | 840 million |
| How to get | Purchasing, mining | Purchasing, mining, claiming |
| Mining algorithm | Scrypt | SHA256 |
| Block time | 2,5 min | 2,5 min |
| Blockchain size | Approximately 13 Gb | Approximately 13 Gb |
Litecoin Cash Price
Litecoin Cash price is 3.44 USD per 1 coin as of March 5, 2018.
You can see real-time Litecoin Cash graph on CoinMarketCap, CoinCap, or CoinCodex websites. In addition, you can read Litecoin Cash 2018 price prediction here.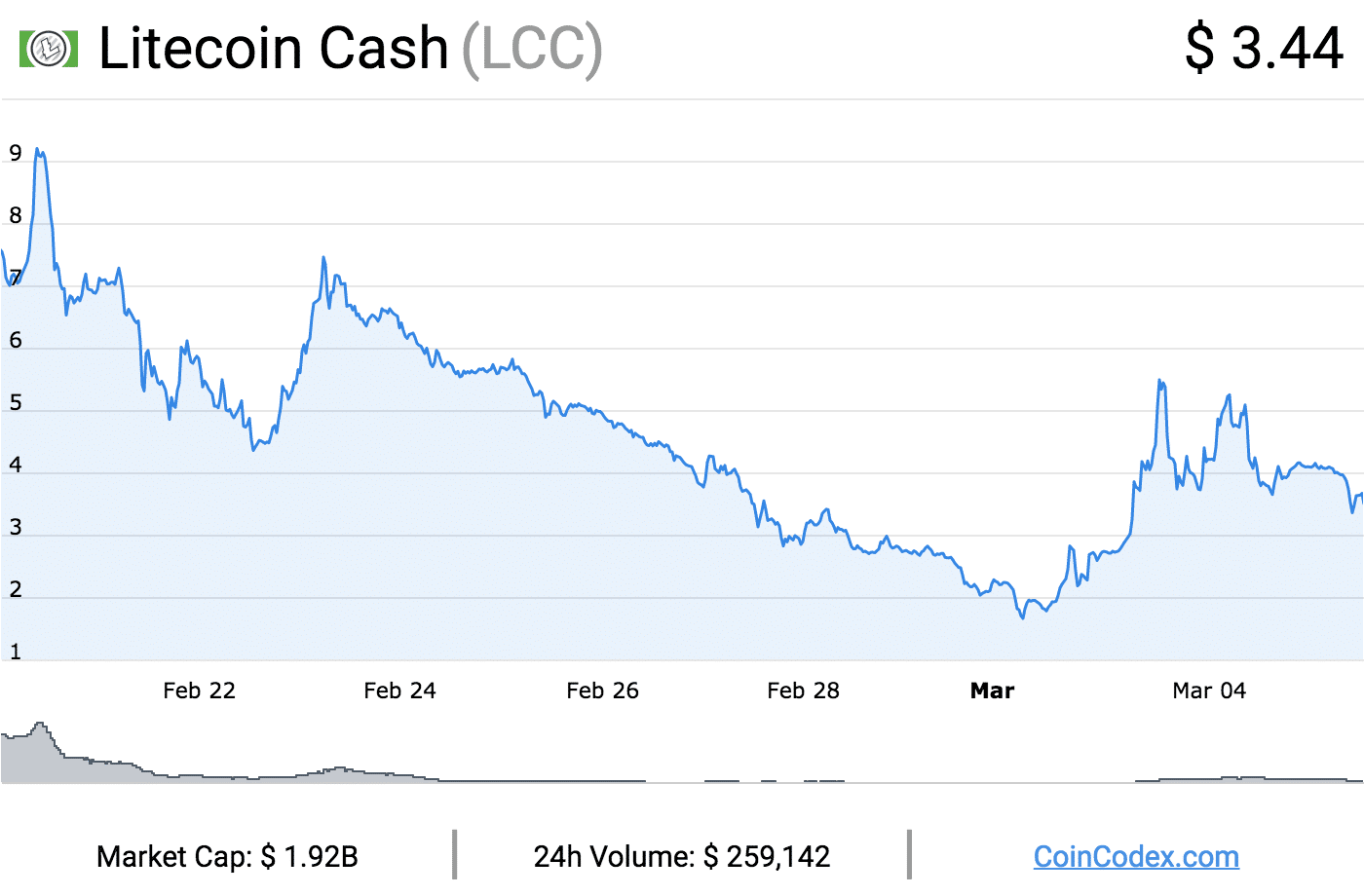 How to Get Litecoin Cash?
All people who had Litecoin on the block 1371111 in private wallets (not on crypto exchanges) received 10 LCC for each 1 LTC. Therefore, the price of Litecoin in February was quite good, even against the background of periodic corrections of the entire cryptocurrency market.
If you did not have a Litecoin wallet, you did not not receive it for free. However, you can buy Litecoin Cash on the following crypto exchanges:
YoBit;
Mercatox;
Tradesatoshi;
CryptoBridge;
SouthXchange.
It should be noted that the first three exchanges automatically gave LCC to LTC owners.
How to Create Litecoin Cash Wallet?
To create a wallet, you need to visit the official website of Litecoin Cash (https://litecoinca.sh/). Then download the wallet software suitable for your operating system and follow the instructions of the installation program. Everything is pretty standard and should not cause difficulties.
Can I Mine Litecoin Cash?
Mining of Litecoin Cash is possible. It does not require huge capacities, for this purpose it is possible to use equipment, which, for example, cannot be used for Bitcoin mining. As expected, Litecoin Cash will have a much lower complexity of mining than Bitcoin, so for this purpose you can use GPU rigs. The developersof Litecoin Cash promise that the formation of one block will take no more than 2.5 minutes. It's good, is not it?
The Bottom Line on Litecoin Cash
What do we think of Litecoin Cash? This project is definitely worth attention. Most likely, the LCC price will fluctuate along with the LTC price within 1:10 ratio. Of course, there is no rigid binding. New opportunities for mining crypto cannot leave miners indifferent. In terms of investment, this is a worthy option for those who don't like to keep all the eggs in one basket.