In 2018, Ripple secured the firm third place in capitalization in the cryptocurrency market, despite the fact that it is not referred to cryptocurrency in the conventional sense. Is it worth investing in it? Is it possible to mine Ripple? The answers to these and other questions will be given below.
The History of Ripple Creation And Development
The prototype of the modern Ripple platform appeared in 2004, long before the emergence of bitcoin. Programmer Ryan Fugger (Canada) created a decentralized payment platform, but that project did not attract a large number of users nor did it receive the desired success.
The Ripple, which we know, was created in 2012 on the basis of Ryan Fugger's concept by OpenCoin company. The venture fund Google Ventures (now GV) was among the early investors in this platform. In September 2013, OpenCoin changed its name to Ripple Labs Inc. The main goal of XRP was to simplify the process of global financial transactions.
At the end of 2017, against the backdrop of total cryptomania and incredible growth of bitcoin, Ripple also surged. At the beginning of January 2018, it cost about $3, but at the end of the month its price dropped to $1.2. While we were writing this article, the price of one XRP fell even lower (summer 2018 is not the best time for Ripple investors).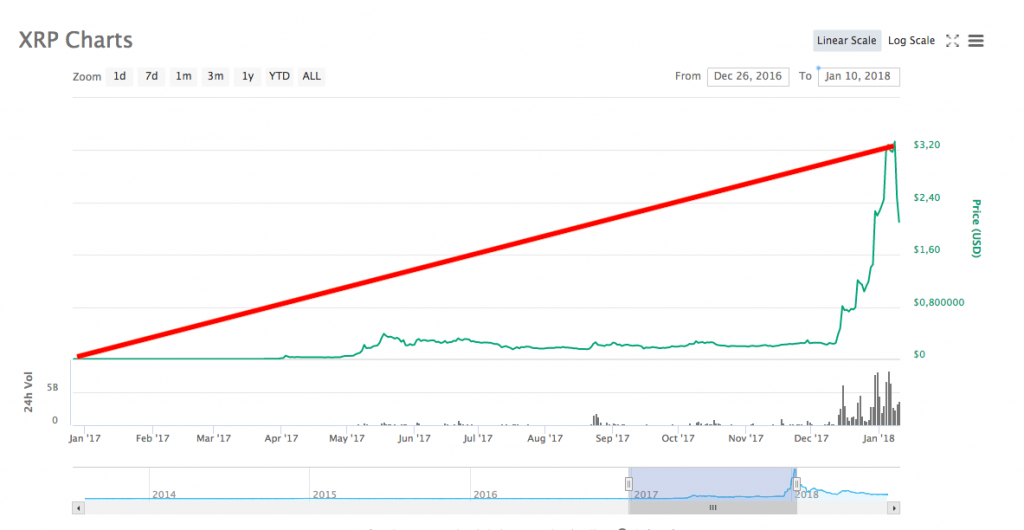 In 2018, Ripple "cryptocurrency" does not look so desirable. It is because of huge losses in price and capitalization. However, Ripple will not disappear. The banking system like this pseudo crypto very much. Many banks and banking groups have integrated with it. Among them are: Akbank, ATB Financial, Banco Bilbao Vizcaya Argentaria (BBVA), Cambridge Global Payments, Mitsubishi UFJ Financial Group (MUFG), National Bank of Abu Dhabi (NBAD), Tas Group, UniCredit Group and many others.
Main Features of Ripple
Ripple operates on its own protocol, which is not connected with the blockchain. This is an open source protocol for conducting interbank transactions. Ripple considers it a neutral utility for financial institutions and systems. Using such a protocol enables financial companies to integrate the Ripple protocol into their systems. From the above, you have already understood that banks are successfully using this opportunity.
From user's perspective, attention should be drawn to such features of Ripple:
The quantity of coins in circulation – as of August 2018 exceeds 39 billion coins.
Ripple coins cannot be mined.
Transaction speed is about 4 seconds.
Transaction cost is about 0.01 cents.
About 1,500 transactions pass through the Ripple platform every second.
Advantages and Disadvantages of Ripple
The main ripple competitors, bitcoin and ethereum offer a low transaction speed (especially BTC), in addition, they consume a lot of energy because of mining. The Ripple's spokesperson said that XRP consumes no more energy than a regular server does. The transaction speed was indicated above.
Other advantages of this digital asset:
very fast transactions;
large capitalization (third place after BTC and ETH);
good prospects for use in the banking sector.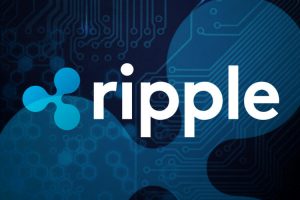 According to the information provided by the Ripple official website, this digital asset can be applied by banks for source liquidity without using correspondent accounts (nostro accounts). Also, according to developers, XRP is a useful tool for Payment Providers, which allows for rapid covering of new markets.
As far as Ripple's shortcomings are concerned, its critics not without reason indicate that 61 percent of this crypto currency belongs to its developers. This makes it possible to manipulate the rate. What is more, half of the company's share still lies idly. Another very important point is that the Ripple platform is not blockchain in its essence. In fact, it is just an accelerated payment system. Who knows what will come to mind of the same-name company's authorities.
Buy Ripple. HODL Ripple
You cannot buy the coin directly from the company, as there is no official Ripple wallet. However, there is no need to do this. Self-respecting cryptocurrency exchanges will sell you Ripple with pleasure. These are Kraken, Coinone, Bitso, Binance, and many others. The best website to buy Ripple is probably Binance, in our opinion, however, it is just a matter of taste. The official site offers a short list of Ripple trading platforms where you can buy coins. However, in fact, this list is much longer.
You can store Ripple either on an exchange (better on several), or on online wallets (but this is nothing better than on the exchange). Those who are seriously engaged in investing and trading know that a cold purse is the best choice for crypto currency. A cold purse for Ripple, that is, a local purse that you upload to your computer, is the thing that we would advise you. The best purses for storing Ripple are Rippex and Toast Wallet. We did not check Rippex, but for using the wallet Toast Wallet requires 20 reserve ripples which are not returned. Evaluate the volume of your investment portfolio. Perhaps you would leave your Ripple on the exchange, although it is not so safe.
Is Ripple a Cryptocurrency or Why Was Not It Been Awarded Oscar?
Oscar for the best acting on the cryptocurrency market goes to Ripple! It would go. If it was awarded. For making people believe, that Ripple is a crypto currency. This joke is not our invention. However, the folk art hit the nail right on the head, therefore we could not ignore it.
Yes, indeed the developers managed to convince the people that Ripple is a crypto currency. Moreover, for some time Ripple was the second (second, Carl!) by capitalization after bitcoin.
Recently, Brad Garlinghouse (CEO Ripple) expressed his view that in the future, Ripple would be the only cryptocurrency in the market (nonsense from Brad). However, we know that this is not exactly a cryptocurrency. Moreover, it is not a cryptocurrency at all. Go out-of-doors, even a schoolboy will tell you about it.
Why isn't Ripple a crypto? First of all, it does not use blockchain. Secondly, this is a centralized network. However, it is inside. Outside, it serves to carry out transactions between entities, and it can also be the object of trading and investing. Beginners look at Ripple's cryptocurrency-like appearance. It would be worth looking into its entrails, though.
How does Ripple's official website call it? It says that this is a digital asset. Let's call it this way.
Ripple Coin Mining – Is It Possible?
If you are going to buy equipment to mine Ripple, we have to freeze your enthusiasm. Unfortunately (or fortunately), these coins cannot be mined. Mining, even a cloud one, is simply not embedded in the concept of XRP. How to mine Ripple coins? There's no way. (By the way, we have our own special relations with cloud mining. Read the article "Cloud Mining Without Deposit and With It: Is it a Scam or Not?" to gain a dipper insight into it.)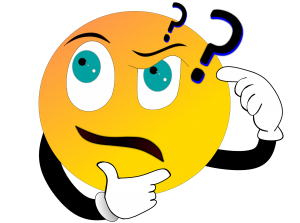 As early as at the beginning of the project, the developers issued 100 billion coins (this is their fixed number). However, only some of these coins are circulating, the rest are under the developers' control lying quietly in the corner. As a result, this prompted outrage among users and the assumption that the developers could easily influence Ripple's rate. To calm the public, the developers have restricted access to "frozen" coins through smart contracts with permission to periodically receive small amounts for the development of their project.
The Bottom Line on Ripple – Should You Invest in It?
If you had invested in Ripple last year, in early 2018 you would have received 47000% profit. Now Ripple's cost has fallen. In addition, Ripple's essence contradicts that of crypto-currency. The reason for this is the centralization of XRP.
In any case, we recommend investing part of the funds here, because we believe that the crypto-currency investment portfolio should be diversified. We would not recommend investing in just one currency (the situation with Bitcoin's sharp drop is an example). Ripple is a fairly innovative product with a good base. It is not a cryptocurrency, which is not its drawback but a peculiarity. The presence of a Pipple-disguised wolf in the flock of cryptocurrency sheep makes many experts breathe fire and brimstone. Interestingly, in early July 2018 even the former US President Bill Clinton joined the Ripple-fanciers. Perhaps, like in the case of Monica Lewinsky, he will soon begin to deny everything. Nevertheless, we have already caught him with XRP. Madonna has turned out to be in the same company. The question arises: Is the Ripple team engaged with proper matters?
Fairly speaking, the company's representatives are really busy. Now, for example, they are implementing a plan for expanding into India. First, they wanted to give a Ripple to every Indian. But today we are talking only about financial crypto assistance to the Indian government. It is obvious that in return Ripple will penetrate into the banking system of the country and will firmly take root there. This is a huge market, which will definitely prevent the coin from deflating.
Thus, despite everything, we consider the future of Ripple quite successful. However, it will not replace the cryptocurrency, no matter how much Brad Garlinghouse has convinced us of it.
Follow us on Telegram https://t.me/crypto_infobase, and be in touch with the latest news, guides, and predictions