The market of cryptocurrencies was enriched with the POLY coin on February 2, 2018. This is a utility token that provides the work of the Polymath platform.
What is Polymath?
Polymath is a decentralized platform, the idea of which is to move the securities market to the blockchain. Its task is to unite investors, various KYC providers (for example, exchanges), developers of smart contracts and lawyers in one information space. All these subjects should help clients to create their own security token. New tokens are securities in the form of a smart contract.
The creators of Polymath have developed a new standard for cryptocurrency – ST20-tokens. Very similar to ERC20, aren't they? The similarity is not accidental. On the official website of the platform, you can see that the project is constantly compared with Ethereum. It is claimed that this is a new stage in the evolution of cryptocurrencies. Ethereum allowed everyone to create their projects and coins, which was a revolutionary innovation. Polymath should open the door for creating tokens, which fully comply with the securities legislation.
POLY Cryptocurrency
POLY cryptocurrency was created to ensure operation of the platform, more precisely, to access the customer to all its advantages. At the moment, this is not a "security token", but an exclusively utility coin. It is not subject to government regulation, since it is not a security. First of all, POLY will be used for transactions within the platform. For example, lawyers, programmers and other specialists creating a legal token should be paid for their work. The safety and speed of such transactions will be provided by this coin.
POLY can be purchased on Huobi, Bittrex, Upbit, Kucoin, Binance and several other less known exchanges.
Polymath (POLY) Prospects 
The project is still under development. Yes, it already has quite a wide functionality, but the platform will be refined and improved for a long time. In August 2018, the landmark launch of Polymath Core 1.3.0 Mainnet took place. Many people believed that this meant the final separation from Ethereum. Confusion demanded a reaction from the company, which was as follows:
As can be seen, Polymath's plans do not include the refusal of the Ethereum blockchain.
Later, during the Polymath Core update in November 2018, the project blog writers focused on the fact that Polymath Core was not its own blockchain.
The Canadian development team believes that their project is highly relevant and allows solving challenges of a big business.
Polymath (POLY) Advantages:
It allows companies to control the issuance of their own capital through programmable code.
It helps to attract new investors, who are more and more interested in switching to cryptocurrency.
It opens the access to trade in the 24/7 mode regardless of the place of residence.
It allows to eliminate intermediaries and financial structures, which impede the placement of capital or make this process too expensive.
All these advantages of the new platform haven't been invented by us. They can be seen on the company's website. But there is no mention of its shortcomings, however, they are also present.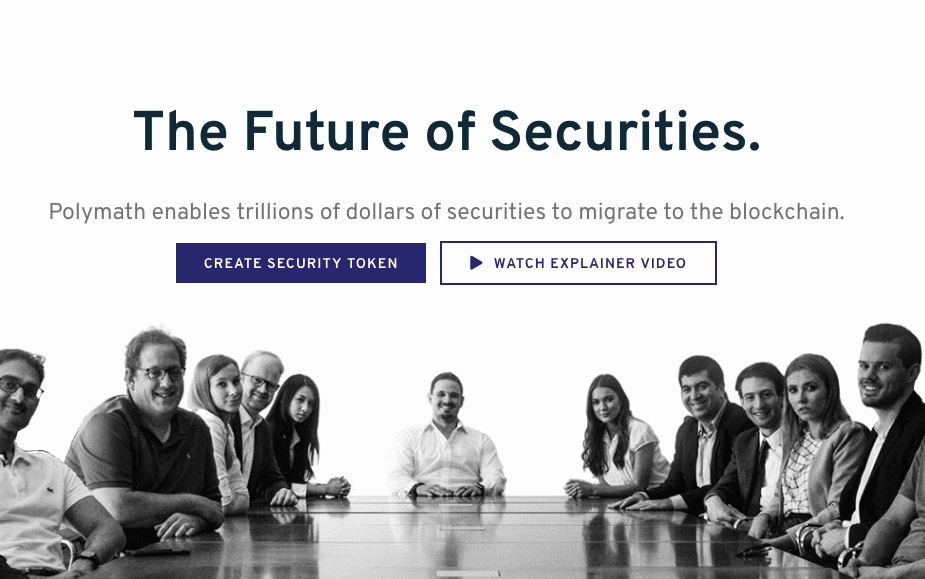 Polymath (POLY) Disadvantages:
The complexity of creating "security tokens", in contrast to the creation of simple tokens on the Ethereum platform, whose success is expected to be surpassed by the company's representatives.
Weak information support. We mean the lack of information on how to achieve your goals on Polymath's official website.
There is no justification for why big business should use the services of the platform's specialists. We think that big companies will primarily trust their people.
In general, the idea of Canadian enthusiasts is very interesting. The project is really unique. Perhaps it is even ahead of time. We see the problem not in the idea of Polymath, which is truly innovative, but in the complexity of its implementation. We believe that the project need some time to become popular. For us, the investment attractiveness of the project leaves much to be desired. Nevertheless, there's a good chance that Polymath will become one of the crypto market flagships within the year.
POLY News
According to Coindesk and the company's page in Twitter, the project has recently teamed up with Loopring to trial P2P security token trading on a decentralized exchange. The scheme of trade includes calling a transfer manager module checks a whitelist to see if a seller and buyer are allowed to perform the transaction. Only authorized trades of ST-20 security tokens could be executed, unauthorized ones could not.
Polymath (POLY) Price Prediction 2022-2023
We have always been good at utilitarian tokens. POLY is no exception. The Polymath platform will work anyway. This means that their coin will be in use. But this fact isn't enough for making a decision to invest in the coin. An investor should be sure that the coin will grow in price.
Possible growth factors are as follows:
A wide choice of crypto exchanges for POLY trading.
Relatively small market cap. Even a few representatives of big business will be able to significantly increase trading volumes and POLY's capitalization.
Polymath is ready to comply with special legislation.
Investment risks are as follows:
Bearish market trends. We can't escape them.
The emergence of more successful projects featuring a similar specialization. We have not yet heard about it, but the dynamism of the blockchain industry does not allow us to reject such a scenario.
We believe that in the coming year POLY coin will be very market-dependent. But, in case of success of the platform, in 2019 the crypto may surge to the moon.
In the table below, you can see our POLY price forecast for 2022-2023.
| | |
| --- | --- |
| Period | Polymath (POLY) Price Predictions |
| Spring 2022 | $0.15 |
| Summer 2022 | $0.25 |
| Fall-Winter 2022 | $0.35 |
| Early 2023 | $0.40 |
Disclaimer: We have tried to make the objective forecast of POLY price. But investing in newly appeared crypto projects is associated with increased risks.