Profits of any crypto exchange consists mainly of trading fees. Binance is one of the most popular digital currency exchanges in the world. How much money should you pay it when trading? What about deposit and withdrawal commissions? Read this guide to know all about Binance fees, discounts, preferences for BNB holders, and much more.
Introduction to Fees on Binance
There are two types of charges on this crypto exchange.
The first one is a trading commission, which is charged after buying/selling cryptocurrency.
The second one is a withdrawal charge, which is paid for withdrawing your crypto money from the trading platform to your wallet.
Trading Fees, "Maker" & "Taker" Trades
General trading fee on this trading platform is 0.1% (both maker & taker), which is good. For instance, Huobi offers general commission of 0.2%, while Bitfinex – 0.1% (maker) and 0.2% (taker).
Well, what do "taker" and "maker" mean? Binance says that placing an immediately traded order (partially or fully filled) is referred to "taker" trade. Market orders are always considered "takers". They do not go in the order book, but they take volume from it, hence their name. Limit FOK and IOC orders (accessible through API), according to Binance, are always takers.
Maker orders go to the order book (fully or partially), they "make" the market. For example, a limit order made via binance.com website. They are generally lower because they provide liquidity.
It is important to know: fees on the cryptoexchange are not applied to orders, only to trades. They are paid when the trade is done.
Binance Fee Discount Explained – BNB Token Role
If you hold BNB tokens on your account, charges are automatically deducted from your BNB holdings. With this, the discount is applied – 25% off at the moment. But this rate is subject to corrections:

BNB fees are calculated according to the [coin]/BNB rate at the market price. You can turn off the discount feature in "User Center" and vice versa. If the feature is enabled but you don't have sufficient amount of tokens on your balance, the discount will not be applied.
Are there any disadvantages of this discount? If you have many referrals or a major referral, you will receive less money from them if they apply BNB-based fees (and they definitely do that). This is associated with the fact that the commission you earn from your referral is calculated as a percentage of the fee paid by them to the exchange. Everything is simple: the less they pay, the less you get. However, if you hold a lot of BNB tokens, you can increase your earnings from referrals (see the section below for more details).
Recent BNB Discount Rate Adjustment
According to the company's whitepaper, BNB's discount adjusted from 50% to 25% on 20 July 2018. This means that many users will pay 0.075% of the transaction amount instead of previous 0.05%. However, simultaneously with that the exchange introduced Tiered Trading Fee Discount Program – see the screenshot below.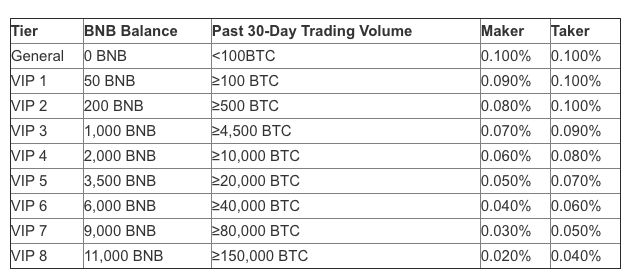 We expressed our opinion on these changes here – Binance increases trading fees. And we asked users whether they will hold BNB after full refusal of discounts. Well, that's the big question.
By the way, on 18 May 2018, the exchange doubled referral commission rewards to 40% for all users that hold at least 500 BNB. The commission rate for all other users remained at 20% level. Against the background of this news, the coin showed good growth.
Binance Fee Example (Trading)
Let's assume that you buy one bitcoin for $7000. Your fee without applying BNB discount will be calculated as follows: 7000 x 0.1% (0,001) = $7. If you apply BNB discount and you hold fewer than 50 Binance Coins and your 30-day trading volume is less than 100 BTC, your trade commission will be as follows: 7000 x 0.075% (0,00075) = $5.25 (both maker and taker).
If you are a major BNB holder and own 11,000 BNB or more (and your 30-day trading volume is ≥150,000 BTC), your maker fee will be just 0.020% and taker fee will be 0.040% without turning on BNB discounts. Let's apply this to the case above:
Maker: $7000 x 0.02% = $1.4.
Taker: $7000 x 0.04% = $2.8.
If you turn on the discount mode, calculations will be as follows:
Maker: $7000 x 0.015% = $1.05.
Taker: $7000 x 0.03% = $2.1.
Binance Deposit & Withdrawal Fees
According to official rules, making deposits at Binance is free. You can move your Bitcoins, Litecoins, and Ethereums to the exchanges without any charges. However, there is a withdrawal fee. It depends on a particular coin and conditions of its blockchain and is regularly adjusted. See examples of discounts for some cryptos in the screenshot below (as of 6 November 2018).

 The Bottom Line
In terms of commissions (and not only), Binance offers users very favorable conditions for trading at the moment. Its token now performs a good function and hence it will be in demand at least for the upcoming 2,5 years. Finally (on the 5th year of the exchange's functioning), BNB discounts will be cancelled, but probably Binance will come up with something else to improve trading conditions.
You can register on Binance here.