Top exchanges are trying to expand the list of stablecoins in their trading markets. One of the pioneers of this trend was the Binance exchange, which is energetically looking for new and promising coins, backed by real amounts of US dollars. TrueUSD began to gain immense popularity in the fall of 2018. Trading pairs with TUSD demonstrate good volumes. Let's clarify the peculiarities of this project and prospects of the stablecoin.
TrustToken Project and Its Coin with Price Stability
TrueUSD Token was created by TrustToken, Inc. ("Tokenization you can Trust"). Its team includes Danny An (CEO), Rafael Cosman, Stephen Kade, Tory Reiss, Kerry Fisher, and others. This is a platform for creating tokens that are pegged to real assets. It is possible to tokenize gold, silver and fiat currencies. The platform's token is TUSD, but users are not limited to this stable coin.
The platform allows companies to create a convenient cryptographic asset that is easy to exchange, enable them to expand investment opportunities, as well as become a part of the exchange trade. Tokenization is one of the examples of the budding direction for the introduction of cryptocurrency and blockchain into the global economy.
What Is TrueUSD (TUSD) And Why It Is Needed
True USD is the first token that was manufactured on the Trust Token platform. This is the ERC-20 token, which backed by with the national currency of the United States. According to its creators, it's not worth worrying about its stability, because the project has reliable partners among the leading trust funds, banks and law firms, including the following ones:
Colley LLP (an American international law firm);
WilmerHale (an American "BigLaw" firm);
Law Offices of Oshins & Associates, LCC.
It has also partnered with Nexo.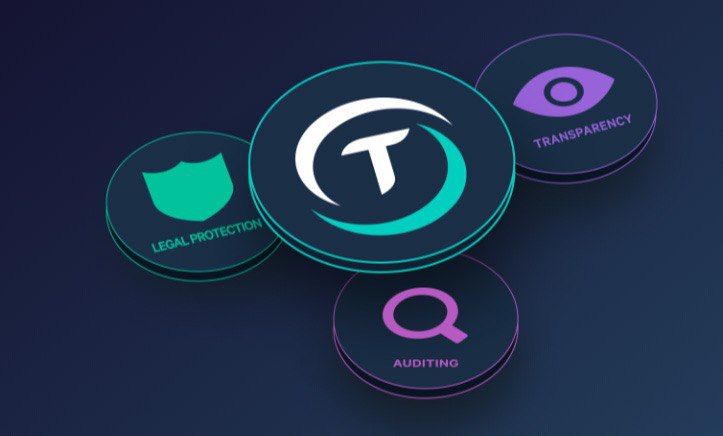 The corporation should not be a victim of the SEC's sanctions, because their coin is not a security, it's something like a deposit check.
Who might be interested in TUSD and why:
Traders and exchanges that need a reliable crypto for fixing profits and fast withdrawal of funds.
Entrepreneurs who can tokenize their business, both in their own and client's interests. They get quick and convenient settlements without impermanence (volatility) risks.
Financial entities that may have new potential for investing or expanding the scope of their activities.
TrueUSD vs Tether: Similarities and Differences
Do not confuse these online assets. They have only one thing in common: binding to the US dollar. TrueUSD has a heavier organizational and legal base, since everyone can get this token by signing a contract with a company. Money are kept in a bank account. At any time, you can exchange a certain amount of TUSD for the same amount of fiat.
However, Tether's financial base is still unattainable for the young stablecoin. Daily turnover of USDT is over 4 billion dollars, while TUSD has about 62 million. There's nothing to argue about. But, on the other hand, it is obviously easier to provide such volumes. We have a lot more confidence in TUSD, but this is our subjective opinion.
True USD: Prospects and Opportunities
The coin exists in the market less than a year, but it has already shown better stability than the old-timers (a subtle hint of Tether). A few words about why, in our opinion, TUSD will fortify its position:
Large selection of exchanges and trading pairs. It is present on Binance, Bittrex, Upbit and other exchanges (over 20).
Wide choice of possible uses of the coin, namely trading, settlements, etc.
Stable coin is based on a promising platform for tokenization of the economy. This is the trend that will determine the development of the world economy in the coming years.
We express our personal opinion about the project grounded on publicly available data. Keep track of its development. However, never put all your savings in one stable coin, because the market is inconstant.