Hundreds of new projects are trying to conquer the cryptocurrency market. In September 2018, Aurora (AOA) could bring a good profit for those who have believed in it. So, it is worthwhile to understand more in detail what is Aurora and what to expect from AOA cryptocurrency in the coming year.
Aurora and Aurora Chain
Aurora is a blockchain platform, the main task of which is to create fast smart contracts and maximize the ease of building block-based applications. This will combine such Internet destinations as games, large data, artificial intelligence and "Internet of things" (IoT).
The platform runs on its own blockchain called Aurora Chain. Its creators seem to hint at the fact that this is something more than just blockchain. In fact, so it is. According to the White Paper of the project, its team is working on creating an "updatable" block that is capable of providing instant data transfer and the highest level of protection.
Aurora Chain Features
The tasks set by the Aurora team should be achieved through the following innovative solutions:
DPOS + BFT mechanism of consensus (without going into technical details, we can note that this solution really allows to radically solve the problem of blockchain's scaling and speed).
Intelligent application isolation technology (this development is aimed at securing the network).
Multi-Chain transaction structure makes the process of data transfer and encryption more efficient than single-chained structure, which is used in most platforms.
AOA token, which serves to ensure correct operation of Aurora Chain.
Differentiated mining mechanism. The mining system will not be initially written in the blockchain. Instead of this, it be formed by the community itself to optimize incentives. The reward in the form of AOA tokens can be obtained for any contribution to the platform, for example, error search, code updates, application optimization, etc.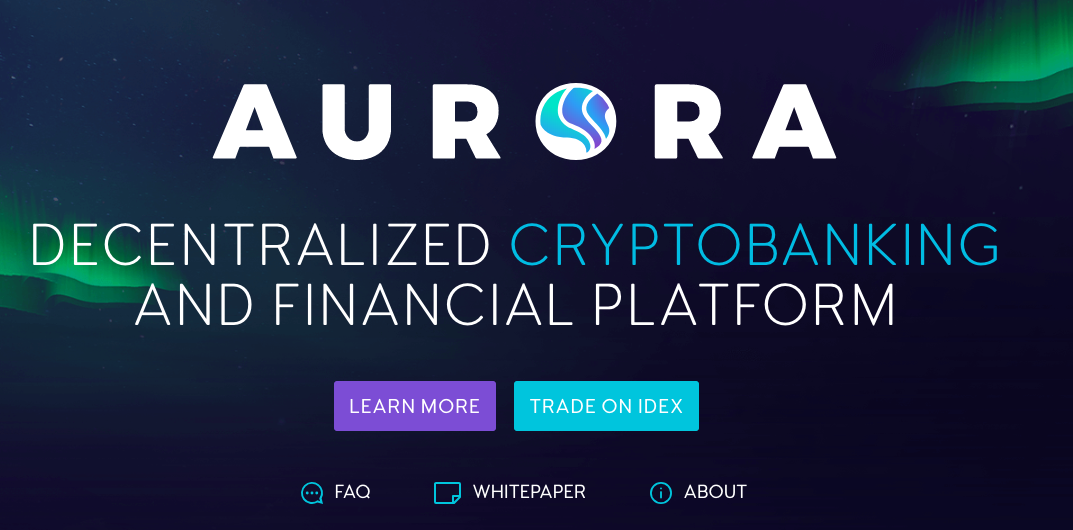 Aurora (AOA) Cryptocurrency
The team of Aurora very highly appreciates AOA cryptocurrency for the functioning of Aurora Chain. This is a means of payment on the platform, a unit for exchanging data, and a reward to members of the community.
The coin has been available since June 2018. It quite quickly fell in price, but it generally corresponds to a situation in the market as a whole. But in September AOA gave its holders a chance to earn well (251% in four days). Such growth was associated with the distribution of coins during the opening of the company's representation in the European Union.
Nevertheless, Aurora (AOA) is one of the least traded coins from top 100 coins by market cap according to CoinMarcetCap. This means that it is still very dependent on general trends. But what could happen when more volumes start coming into the cryptocurrency?
Where to Buy Aurora (AOA)
It is quite difficult to find AOA on crypto exchanges. This is due to the fact that the coin is represented only on two exchanges: Kucoin and Bitinca. That said, all trading volumes are concentrated on Kucoin. AOA/BTC and AOA/ETH pairs are available for trading there. The choice is small, but it increases chances to earn on future listings. For example, HitBtc exchange is listed in the list of the project's partners, which gives grounds for waiting for the soon listing of AOA on this exchange.
Aurora (AOA) Price Prediction 2022-2023
The coin has already shown very good dynamics, but the question of the validity of recent growth and the availability of resources for its continuation remains open.
Here are some factors that can contribute to the coin's price growth:
Innovative technologies that are really needed by users.
Pretty good trading start of AOA crypto.
Potential listings on the top exchanges.
The project is just at the beginning of its journey, but has already attracted the attention of users.
Factors that may slow down the coin's price growth are as follows:
The project, though it has great prospects, is still raw, which causes investors to take a wait-and-see attitude.
Before listing on the top-level crypto exchanges, the project has no chance of attracting sufficient volumes for serious growth.
In general, the project is worthwhile to monitor its development and have a reserve of funds for investment. Technological solutions, which you can find on auroradao.com (the official website), are up-to-date. It is too early to talk about their successful implementation, but the process has already been launched. For us, updates in the list of project partners will be an indicator of the business' interest in the product.
In the table below, you will see our Aurora price forecast for 2019-2020.
| | |
| --- | --- |
| Period | Aurora (AOA) Price Predictions |
| Autumn 2022 | $0.047 |
| December 2022 | $0.054 |
| Winter 2023 | $ 0.076 |
Disclaimer. Our analytics and forecasts based on it are only for informational purposes. The information published by us is a ground for your further research, and not a guide to investing or trading.
Follow us on Telegram https://t.me/crypto_infobase, and be in touch with the latest news, guides, and predictions.