On the evening of October 22, 2018 (the US CT time), Elon Musk decided to confess his love for anime on his Twitter page. Increased evening activity of the Tesla creator caused a temporary blocking of his Twitter account. It would seem, what's bitcoin got to do with it?
The fact is that Elon Musk published an animated bitcoin image with the question: "Wanna buy some bitcoin?"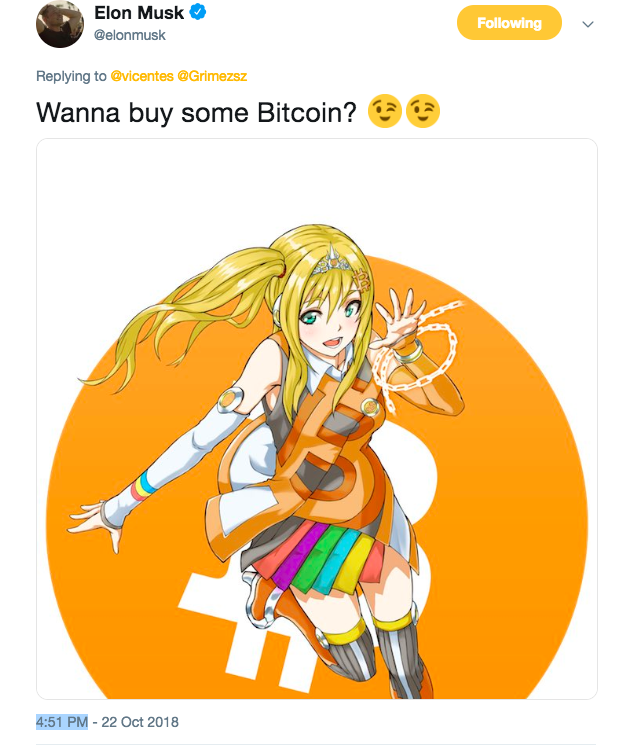 This caused a storm of emotions amongst all crypto enthusiasts. Even CEO Binance. Changpeng Zhao did not ignore this. He posted a tweet with the following content:
There is a high probability that Elon Musk will begin to accept crypto and implement blockchain technologies in the work of his companies. It is interesting that on the Internet one can still find the assumptions that Satoshi Nakamoto and Elon Musk are one and the same person. This is a dubious assumption, but everyone has the right to express their point of view.
If the hints of Musk on the tendency to bitcoin and other cryptocurrencies in the future will not be served with a love sauce for anime, then we should expect an information explosion. It might trigger a serious increase in the price of cryptocurrencies.
And, for now, it is possible replace the well-known expression "When Lambo?" with "When Tesla?".
Follow us on Telegram https://t.me/crypto_infobase, and be in touch with the latest news, guides, and predictions!