The main feature of the blockchain is to ensure network decentralization. This means that none of the network members can independently interfere in its work without a consensus with other members. But, according to ccn.com, which refers to the cryptographic statistics service Coin Dance, as per today, January 3, 2019, more than 50% of the Bitcoin Cash (BCHABC) network is concentrated in one hand.
This is a Chinese mining pool BTC.TOP, which provided a hash rate of 679 PH/s. This figure is 50.2% of the BCH network hash rate. This index brought us very close to the possible attack scenario of 51%. In the case of its implementation, the owner of a "controlling stake" can prevent the confirmation of transactions, cancel confirmed transactions, and spend the same token twice.This situation undermines the credibility of Bitcoin Cash. Alex Simons, head of the Microsoft Identity Division, spoke about the threat of decentralization of the BCH network at the beginning of 2018. This was one of the reasons of hard fork on November 15, 2018 and the emergence of Bitcoin SV.
The ideological mastermind of Bitcoin SV Craig Wright has been always ruthless to competitors. Most likely, the problem of decentralization of Bitcoin Cash will act as a catalyst for new, harsh statements by an extraordinary fighter for "Satoshi's vision."
By the way, in response to our question about the main competitors of Bitcoin SV, Craig Wright answered that there are no equal opponents for BSV. You can see Dr. Wright's full comment below.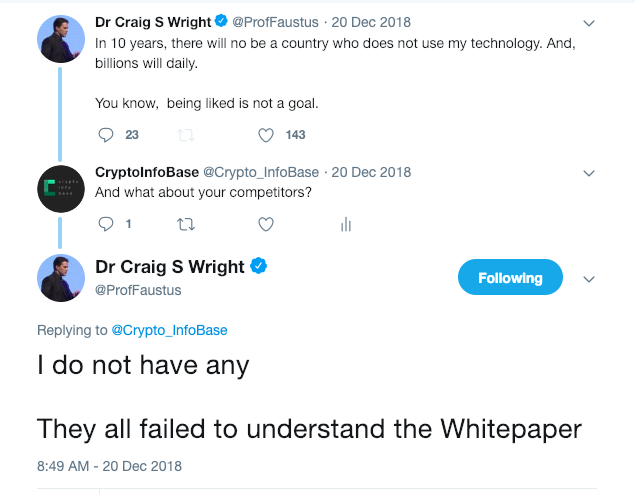 Such statements are considered very controversial. However, drawing parallels between BSV and BCH, we can say that the latter gave many a reason to wonder whether they chose the appropriate Bitcoin Cash fork. Nevertheless, we hope that BTC.TOP will reduce its computing power in order to avoid abuse.
Follow us on Telegram and/or subscribe to our newsletter!