You've probably heard that the Expanse (EXP) team accused Binance of demanding a 400 BTC fee for listing their coin. If you have not heard about that, read more here.
The response of Binance executives was not fast. It took Binance CEO Changpeng Zhao (known as CZ not giving crypto away) 3 days to formulate the answer.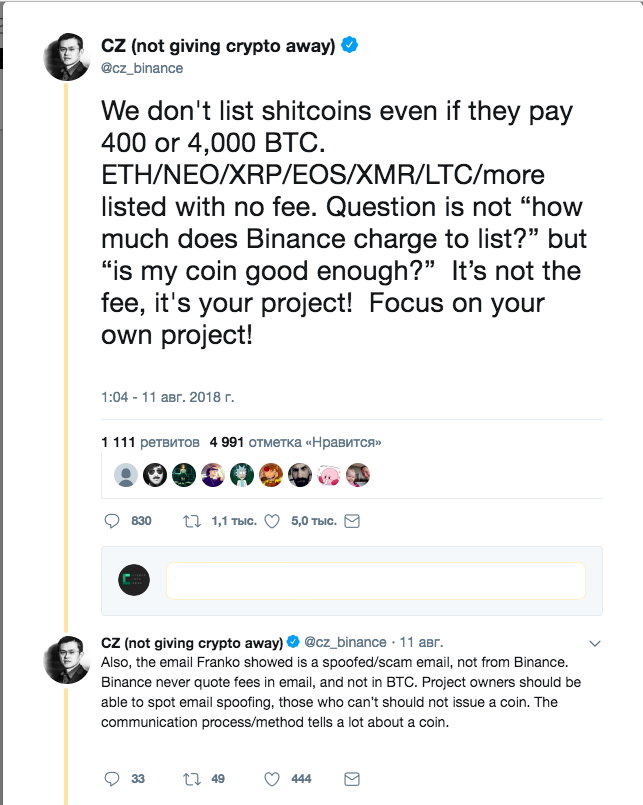 CZ has says that Christopher Franco's accusations are groundless and far-fetched, because such cryptocurrencies as ETH, NEO, XRP, EOS, XMR, LTC were listed on Binance without any fee. This statement looks a little ridiculous. They might add Bitcoin and Tether to this list as well, as these cryptocurrencies were also listed without fees.
Binance CEO states that the reason for such a misunderstanding is Christopher Franco's oversight. He did not recognize the fake e-mail with the fraudulent proposal. This really looks like the truth. But, it seems to us, CZ has written superfluous things. We mean his remark that Binance does not charge a fee in BTC and does not demand it by e-mail. Freudian slip? The probable conclusion is that the exchange still charges a fee for listing, but prefers the US dollar or other currency. The relevant negotiations are not conducted by mail. This is just a guess, but you would agree that regarding what CZ has written on Twitter, it is not without logic.
Some things he has said seem to be justified but too obvious. We have not really heard complaints about listing fees from serious projects. On the one hand, it can mean that Binance makes sure that its customers trade only the best crypto. On the other hand, the exchange itself is interested in trading a popular crypto, which means it will not frighten its creators by any fees.
No one will tell us how things stand in reality. But we have got good food for thoughts.
Follow us on Telegram https://t.me/crypto_infobase, and be in touch with the latest news, guides, and predictions  😎