If you open CoinMarketCap, you'll definitely pay attention to XRP coin. It made a lot of noise during the late 2017 explosive growth. When many coins updated their maximum prices in 2021, Ripple could not even come close to the former heights. Will its price rise in 2023? Is it worth investing in Ripple now? In this study, you will find answers to your questions about Ripple.
What is Ripple (XRP)?
The Ripple Platform was created to simplify global financial relationships. This is an open payment network. Accordingly, the digital asset of this platform (XRP) serves primarily for payments between users around the world.
Today RippleNet works in the following areas:
It is intended for data exchange between banks (similar to Swift) and for instant international payments in any currency.
This is a payment system that is limited to the XRP token.
This is API with very broad functionality, which, among other things, serves as a channel of communication between financial institutions and users.
This is not a cryptocurrency as such. Ripple platform does not use blockchain, and the network has some signs of centralization. There are a lot of controversies about the latter in the community. For example, according to Brad Carlinghouse, CEO of Ripple, "Ripple is not centralized. To put it clearly: If Ripple disappeared today, XRP would continue to work." But Bitmex has a completely opposite opinion on this.
Historically, XRP is referred to the category of cryptocurrency. However, Ripple Labs Inc. clearly designate their coin as digital asset. And this is more than correct.
Creating a token is not a project task. It is aimed:
to secure payments and exchange operations;
to carry out transactions in different currencies (crypto and Fiat);
to perform online currency exchange.
The purpose of Ripple Labs Inc. in the long term is full integration into the banking system. It is planned that banks will transfer their reserves to XRP. If the goal is achieved, the cost of the token will increase tenfold.
We advise you to read the article "What Is Ripple (XRP): Cryptocurrency or Digital Asset? What Is It Used For?" This is a rather in-depth analysis of the features of XRP, as well as the past and future of this coin.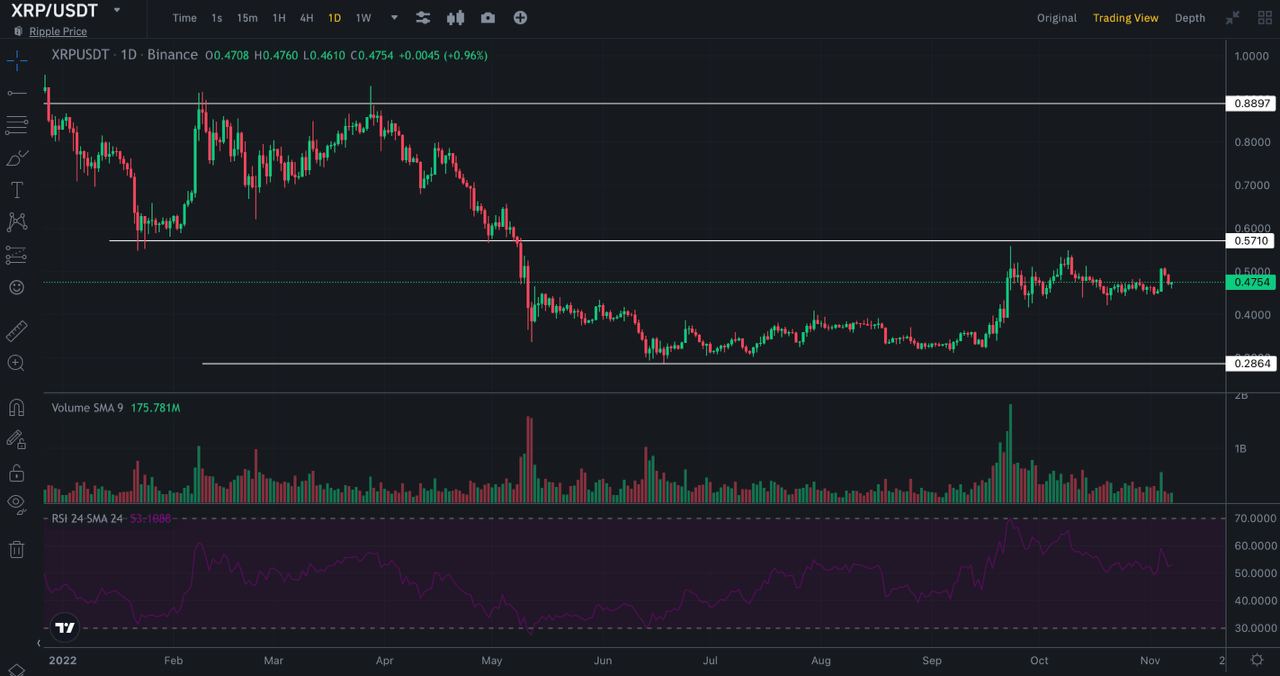 Ripple and Bitcoin
These coins are very often compared. Until recently, many respected people (for example, Bill Gates) called the XRP a perfect successor of Bitcoin. But experts' appreciation remained to be appreciation. Yes, Riple has many partners and a good user base, but now it has become clear that XRP will not be able to replace Bitcoin.
However, this network has one very important advantage – the speed of transactions. Its capacity is ten times higher than that of competitors. More than a thousand transactions per second is a virtue that makes many people forget about shortcomings.
The cost of XRP is formed under general trends, especially along with fluctuations in Bitcoin rate. Not always, but very often, XRP behaves on the market in the same way as other altcoins.
Ripple or Ethereum: Struggle of Market Caps
Ripple and Ethereum seem to be eternal rivals. Not in terms of functionality, but in terms of market capitalization. XRP has repeatedly outpaced ETH in this indicator.
From the functionality perspective, it is possible to compare throughput capability. Again, Ethereum clearly loses in this indicator. Otherwise, it makes no sense to make special parallels, because you cannot create smart contracts or DAps on the Ripple platform. But, on the other hand, banks are more loyal to XRP. Perhaps the elements of centralization and control are more interesting to the classical financial system.
XRP Price Today
Ripple is a highly volatile coin. Its price can jump 50 percent or more during the day. If you haven't looked at the XRP token chart – do it before buying it.
Today, the price of Ripple is naturally subject to general trends, but its pricing is much more independent than that of its competitors. This suggests that the project has its powerful user base. Oddly enough, in 2022 the growth rate of this asset is much more logical than the rest of the market.
In the fall of 2022, the price found very strong support and began to rise against the backdrop of a fall in Bitcoin dominance. It is subject to general movement, but a fairly positive sentiment is evident. This will allow a large player to collect liquidity from both long and short positions. However, after a possible support retest, Ripple looks green.
XRP 2023 Price Forecast
The main project direction is the B2B sector (business to business). This means that the influence of the crowd buying crypt for 100-200 dollars is minimal. We often find news about various Ripple partnership projects that allow for attracting institutional investors. It looks like the end of 2022 is a period of accumulation.
This means that we will not see sky-high price growth. However, a break of $0.57 resistance is a first, easy but important step. With positive market dynamics, the main goal is to become a psychological mark of 1 dollar per 1 Ripple. With positive market dynamics, the main goal is to become a psychological mark of 1 dollar per 1 Ripple.
A very strong brake on the development of the ecosystem and price growth is the litigation between the creators of this cryptocurrency and the SEC. Every positive decision for XRP has always been accompanied by a burst of activity and bullishness. The final point is dragging on, but there is no doubt that XRP price prediction after lawsuit is very positive.
XRP 2025 Price Forecast
The replacement of foreign exchange reserves with tokenized XRP shares is unlikely to happen in 2025. But this year should be marked by a very serious rise in prices. During 2025, Ripple should regain the lost ground it gained in early 2018. In 2021, this was not possible. By 2025, there is every chance to return to its former greatness and silence the skeptics.
This is more than realistic, especially given Ripple's margin of safety shown in bearish cycles in 2018 and 2022. Yes, the fall was huge. But the fact that the coin has found support despite market trends is very revealing.
Ripple Price Prediction 2030
Perhaps 2030 will be the most significant for the project. Here are the main factors of serious growth that should be expected in this period of time:
The great interest of the world community in all cryptocurrencies.
Completion of the mass entry of institutional investors into the market.
Maximum coverage of the banking system by the Ripple network.
Waiver of SWIFT in favor of RippleNet.
Doubt in the need to continue to focus on foreign exchange reserves.
This will probably help the token to grow several times in just one year. But you should not forget that after 2025, many analysts are waiting for a real crypto winter. It is impossible to exclude the beginning of a global correction of the uptrend, which began on the day of the creation of bitcoin.
XRP Token Price Forecast 2040
On the Internet, it is often possible to see a categorical forecast that $ 1,000 for XRP is a fair and achievable goal. No one talks about timing. And it is right, because even in 2030, with the implementation of all the company's plans, we see no reason for such an exchange rate. What about $ 100? This is realistic and achievable.
In fact, only when the overwhelming majority of banks integrate RippleNet it will more possible to make more definitive conclusions. How will the banking system behave? We can definitely say that a complete rejection of the gold standard will give a very strong impetus to the growth of the XRP rate. In the meantime, let's stop at a price of one hundred bucks.
Ripple Price Prediction 2050
We, of course, have very big ideas. But certain assumptions can still be made. The most courageous experts stopped at around $500 per coin benchmark however, predictions are given reluctantly. It is important for Ripple to overcome $ 100, but it is still up in the air.
Do you want to know how much bitcoin will cost in 2050? Read our detailed forecast.
Ripple Price Predictions Overview (2023-2050)
WalletInvestor: WalletInvestor, a platform that provides technical analysis-based predictions for various cryptocurrencies, had a cautiously optimistic view on XRP. Their long-term forecast suggested a gradual increase in the price of XRP over the years.
DigitalCoinPrice: DigitalCoinPrice predicted a steady growth for XRP in the long term. According to their analysis, the price of XRP could have experienced consistent appreciation through 2023 and beyond.
TradingBeasts: TradingBeasts' prediction model foresaw a range-bound movement for XRP, with a possibility of moderate price appreciation in the long term. Their forecast suggested that XRP could see slow growth without any significant fluctuations.
CoinSwitch: CoinSwitch, a cryptocurrency exchange aggregator, had a bullish outlook for XRP in the long term. They believed that the growing adoption of Ripple's payment solutions and potential partnerships could positively impact XRP's price in the coming years.
Social media and online forums: Opinions on social media and online forums like Reddit and Twitter varied greatly. Some users were optimistic about XRP due to Ripple's focus on facilitating cross-border payments and the potential for increased adoption by financial institutions. Others expressed concerns about the ongoing legal battle between Ripple and the U.S. Securities and Exchange Commission (SEC) and its potential impact on XRP's future price.
CryptoExperts: Some cryptocurrency experts and analysts were bullish on XRP, predicting that it could reach new heights in the long term, provided Ripple can successfully navigate regulatory challenges and continue to expand its partnerships with banks and payment providers.
LongForecast: LongForecast, a platform that provides long-term financial market forecasts, had a more conservative outlook for XRP. Their prediction suggested that XRP's price could experience slow growth with periods of stagnation and slight dips.
Is it worth investing in XRP?
To begin with, you cannot invest in the project itself. But buying cryptocurrency is a good idea. It is worth having coins from this project for a rainy day. There is sufficient foundation for a good rebound. Collecting short liquidity should not put you off. In 2022-2023, you have a very good chance to buy a coin at an affordable price. This is especially true for those smart people who bought XRP at the beginning of 2018 and are still waiting for the rocket. By the summer of 2023, buying Ripple will become less exciting because the risk/reward ratio will not be as interesting.
Despite the whole army of haters represented by ordinary users, large financial institutions continue to integrate into the Ripple ecosystem. Banks are buying XRP in huge quantities. Investors are kicking themselves and salivating.
The growth rate of this coin is inevitable. Another question is that we can not talk about specific dates. We would like to quote Robert Rolih, author of bestsellers in the financial industry: "Market predictions are a dime a dozen". That's the best way to put it.
Everything is relative. Ripple path is long and thorny. But if this token was not interesting for the banking system, believe us, the project would have sunk into oblivion at the end of 2018, when even confirmed crypto optimists lost heart.
Conclusions: How Much Will Ripple Cost
The XRP token has very good prospects. In the long run, this is a profitable asset. According to Ripple, the company enters into an average of 2-3 new partnership agreements per week. What will happen in 10 years? Banal mathematics proves powerful expansion. The only thing we still cannot agree with is the rise in the price of the token to sky-high peaks (500, 1000, 2000 dollars for XRP). However, a price increase of 200-300% in 2023 sounds realistic. But don't think it will be fast. It's time to slowly but surely buy back the bottom, observing the risk management. The market is not obliged to fulfill all our desires.
Disclaimer: We have done an XRP perspective analysis that should help you draw your own conclusions about the possible value of this asset in the future. This is neither a guarantee, nor advice or a guide to action.