Last year, a lot of people got rich in the cryptocurrency market. But there are a lot of those whose experience with crypto was overshadowed by the loss of funds earned by excessive work. Nevertheless, the market of cryptocurrency is growing and developing. Its capitalization continues to increase (with varying success) in long-term timeframe. Along with the capitalization, the number of folks who want to invest in cryptocurrency and get a good profit is growing. For someone, this is a couple of hundred bucks, while others want to earn not less than a couple of hundred thousand.
Of course, all bitcoin millionaires read our website with interest, especially crypto brothers – the Winklewosses (however, we're not sure of that). However, let's be honest: most people want to invest little money and get good profit. Some simply do not have the opportunity to invest a lot of money in cryptocurrency, while others want to earn without risk and are afraid to invest more. That's why we'll tell you where to invest a little money, if you have decided to enter the cryptocurrency market.
Investing or Cryptocurrency Trading?
If you want to deal with crypto, having a small amount of money, invest in it. At the first glance, it seems that it is safer and easier to operate with little money. However, it is not so. Buying 0.1 ETH for $300 ($30 in total) and selling it for $400 you will get $10 profit. But do not forget that the cryptocurrency market is hardly predictable, hence you can wait for this profit for quite a long time. In addition, if you are an emotional person, it can negatively affect your mood. Moreover, not every exchange is really convenient for trading. This does not mean that trading is a bad idea. But if you have $500 allocated for buying crypto, then do not chase after quick & big profits. Invest a small sum of money in cryptocurrency. While the capital is growing, you will be able to learn all the secrets of trading. When the time comes to close the deal, you will have enough capital for trading, unless by this time you will still want to do this. 
Investments in Cryptocurrency
One of the best choices for those who are looking for where to invest a little money so that they bring profit is cryptocurrency. We are not talking now about a specific coin, but about cryptocurrency as a whole. There are many investment objects, but it is crypto that makes it possible to invest just as much as you can invest. For example, investing in real estate is becoming less popular. First, the real estate market gives less profits than earlier. Secondly, having only $1000 for investment, you cannot invest in real estate. Of course, those who many years ago inherited property, bought it, or, possibly, stole it might not agree with us. But we are talking about how to start cryptocurrency business today and how to make money from scratch (virtually), making balanced and thoughtful investments in crypto.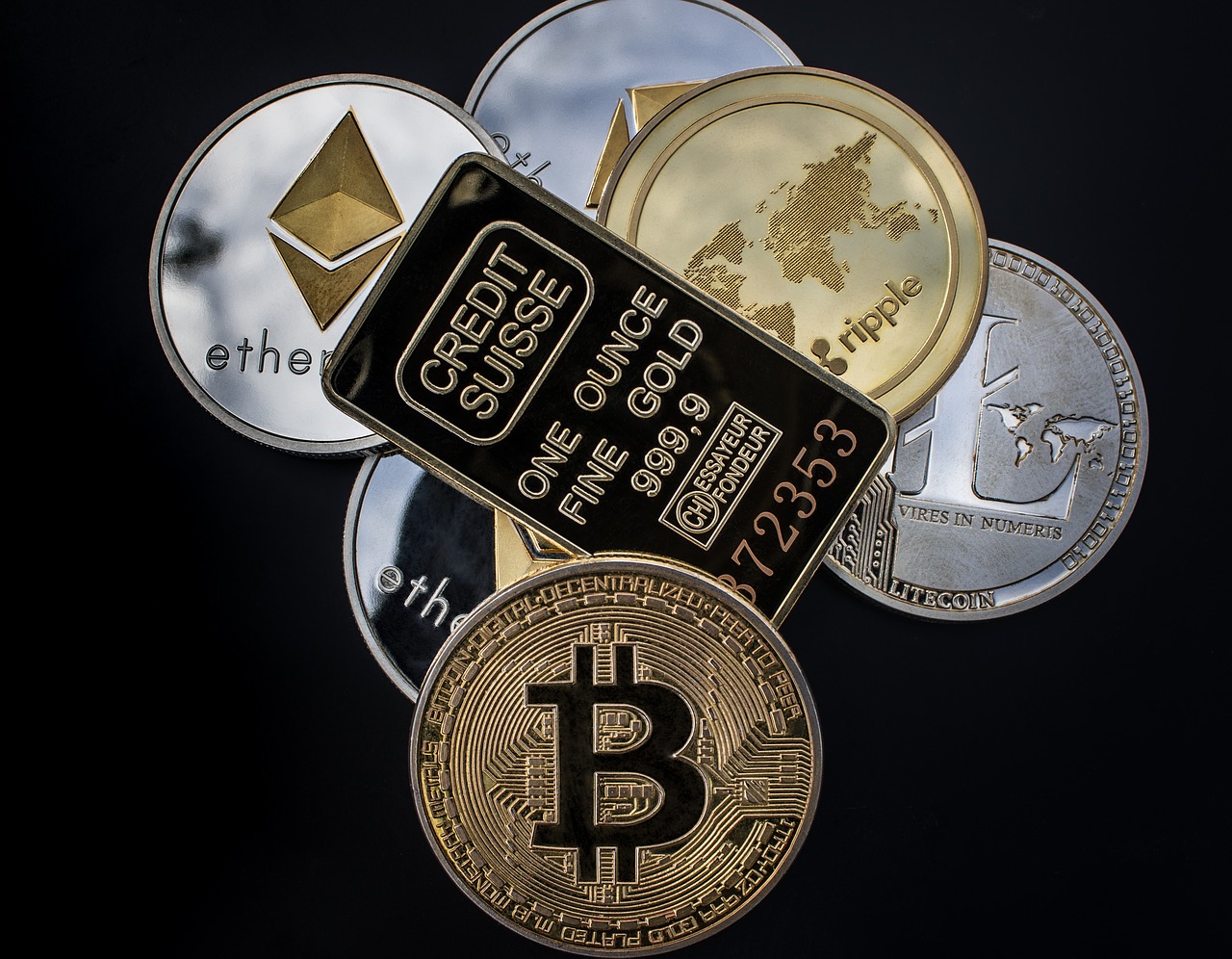 If you want to buy bitcoin today, this is a simple task. Also it will not be a problem to buy altcoins of different "caliber". Those who are just starting their way in the world of cryptocurrency shouldy pay attention to the fact that they can buy both a whole coin and its part (tenth, one hundredth and even one thousandth). When our team made its first investment in bitcoin, our friends were surprised that we spent $2,000 on an incomprehensible product. In all this history, it is important to understand that in fact we invested only $200 US dollars, buying just 0.1 BTC, not the whole bitcoin.
As you can see, cryptocurrency is a good choice to invest little money. Today there is no more rapidly developing investment object than crypto. 
The main advantages of investing in cryptocurrency:
A young market that will continue to evolve and improve for a long time.
There are not many people involved in the cryptocurrency market, which makes it very promising. Steve Lee, former Google Product Director, believes that if you buy 0.28 bitcoin and hold it, you can be certain that no more than 1 per cent of the current world's population can ever own more bitcoins than you do.
Large assortment of investment objects.
Continuous growth of the price for top coins in terms of long-term and medium-term investments.
The presence of a high-tech base in the form of a blockchain, which is penetrating all spheres of modern society's life.
Low-Risk Investments: Are They Real?
It is necessary to understand that it is quite realistic to increase your savings using cryptocurrency, but no one will ever vouch for the success of such an undertaking. If someone tells you that you can invest money without risk, or guarantee you a specific amount of profit, run from this scoundrel away. But, following the rules of crypto investment, you can significantly reduce risks and increase the chance to multiply your deposit several times.
Risks associated with crypto investing are largely related to gross mistakes made by investors themselves, rather than caused by price fluctuations. It is not a secret that cryptocurrency is volatile. But many beginning crypto investors lose their savings not because of price fluctuations but because of their own stupidity. A lot of users of MyEtherWallet received a bitter experience in investing in cryptocurrency only because they were not sufficiently vigilant and allowed phishing programs to "steal" their crypto wallet data. Some people curiously opened "emails of happiness to discover the loss of their crypto.
What's the Most Profitable Investment: Bitcoin or Altcoins?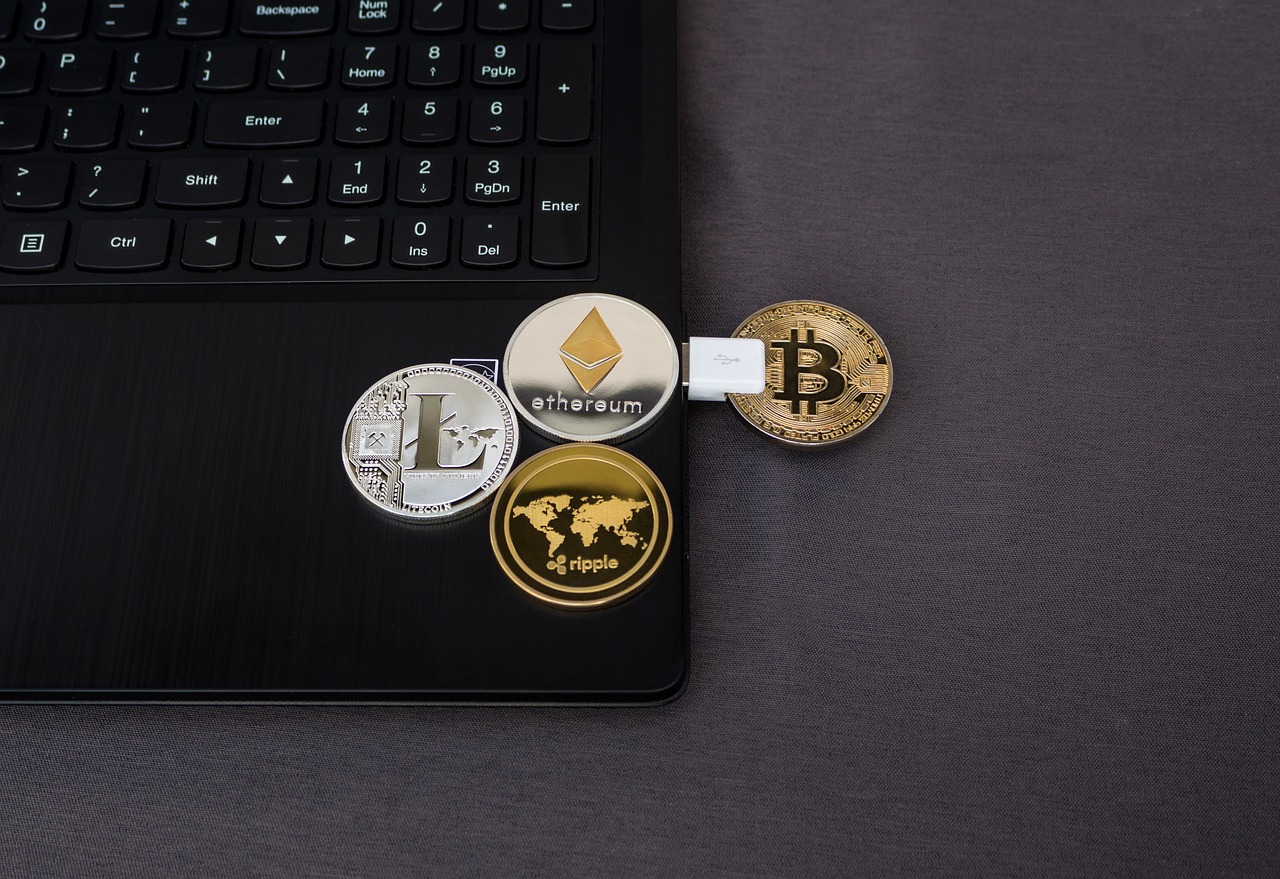 In fact, this is not so important. If you select the right altcoin, then in a year you can go from micro investing to something more serious. Still, bitcoin is reliability. In addition, ETH has definitely become a flagship of the cryptocurrency market (though its price has recently significantly dropped unlike bitcoin one) Some other altcoins also aspire to acquire such reliability.
Gain is a combination of potential profit and risks associated with investing. We need to find a middle ground, because bitcoin cannot surge as much as altcoins with one million US dollar capitalization. Nevertheless, bitcoin is most likely to rise in price. This is not about noname altcoins .
When to Invest in Crypto?
It is believed that the most suitable time to invest in cryptocurrency was a few years ago. But the paradox is that this time has not passed. Most likely, if you invest a small amount of money in crypto today, in a year or two you will regret not investing more. And this is normal. Such feelings are experienced by crypto investors every year. For this to become clearer, it is enough to look at the bitcoin price graph.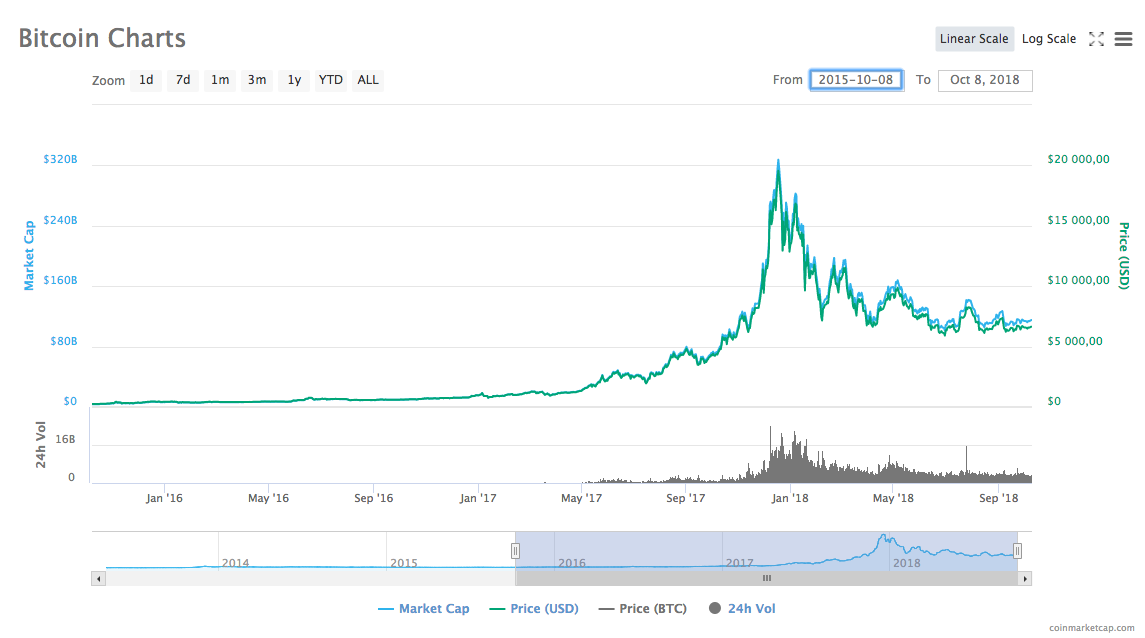 If you are going to invest, then for you it's not so important how much cryptocurrency is worth today. More importantly, how much it will cost in a year. Most likely, the price will rise in a year. That is great, isn't it? But we have a thing here. Buying cryptocurrency at peak prices is a bad idea, especially if you decide to invest a small amount of money and earn. If you see that the market is green, wait. Correction is inevitable. Even if the decline in cryptocurrency price is not big, you can rely on savings, albeit insignificant. After all, you are engaged in micro investment in crypto, therefore do not throw away your bucks.
One who sells crypto during a dump will buy it during a pump. It is crowd psychology.
When investing during a dump, do not pay attention to "panic sale" advice. Just look at spring 2018 crypto market correction.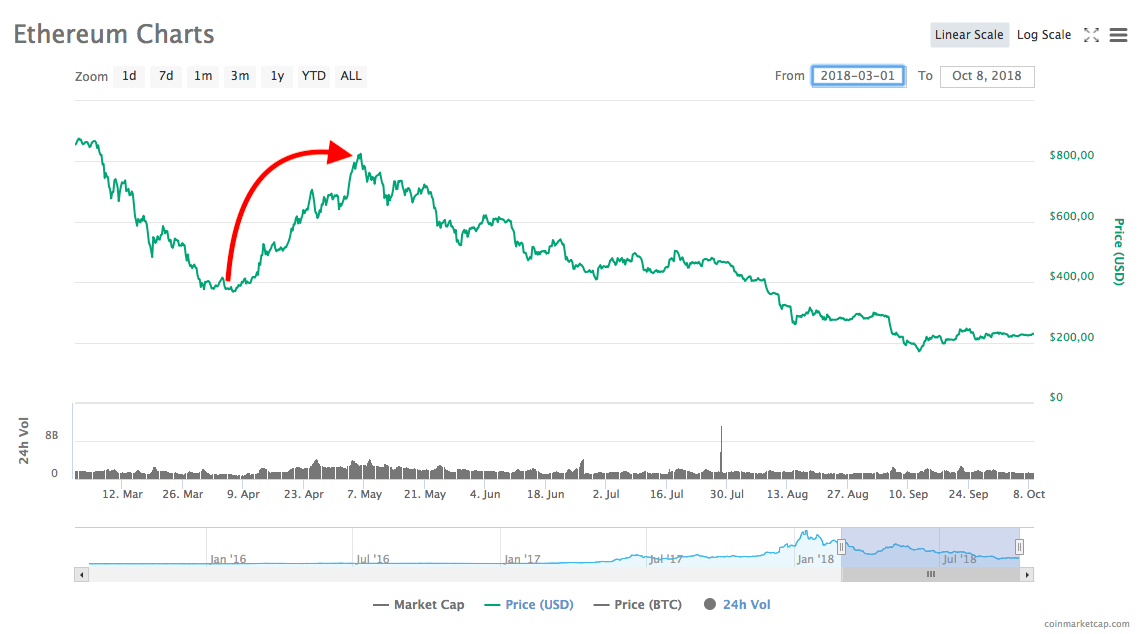 Nobody advised buying ETH for $350. Tradingview persistently showed "SELL". Nevertheless, it was worth buying. It referred especially to those who had allocated that particular amount for investment.
Today, Ethereum is going through hard times again. This is a reason to think about its purchasing. We believe that the launch of ETH futures will make the coin more stable and save it from depreciation.
Where to Invest Little Money?
We will consider two approaches to investing.
Cheap-priced altcoins with low capitalization are a good object to invest a small amount of money. This is due to the fact, that having $500, you can quite successfully invest in several promising cryptocurrencies. In our opinion, Ontology is a good altcoin, which has shown multiple increase in price, but not everything that it is capable of. No less promising is Zilliqa, which we keep in store. Try to buy the dips. Until the end of 2018 you can resell it and make a good profit. But do not get rid of ZIL. In 2019, we expect a breakthrough of this project. Many significant events related to this crypto are expected in the upcoming year (see our Zilliqa coin review). We consider that ThetaToken is no less promising altcoin, which will launch its own platform by the end of 2018.
More information about the most promising altcoins will soon be available in a separate article.
What do you need for making an independent and conscious choice of an investment object among hundreds of non-top altcoins?
Pay attention to the capitalization of an altcoin. If it is large (above a billion), it will be harder for a coin to significantly increase in price. If the cap is low, like about 60 million in Odyssey (OCN), the growth will be more rapid, but the risk of losing investments will be also higher.
Monitor changes in volume. Pay attention to the ratio of volume and capitalization. If the volume is close to 10% of the capitalization, then you can wait for price surge in the near future.
Analyze an altcoin in retrospective. It is important to understand what innovative product its developers offer and who is behind it. The algorithm is the same as for ICO.
Follow the news. If a crypto appears in the news too often, it is worth paying attention to it.
Analyze the calendar of events associated with an altcoin. If the upcoming year is filled with plans (for example, launching MainNet, switching to an own platform), you should think about this alt.

Pixabay.com
The second approach is to invest in the time-honored BTC. Besides bitcoin, some other alts have already joined the group of leaders. Bitcoin and other top 20 cryptocurrencies have a high capitalization, therefore it is much harder for them to significantly increase in price and turn a small amount of investments into greater profits. Nevertheless, it is these currencies that have a tendency to stable growth (from the long-term perspective). Not all of the top 20 and even top 10 cryptocurrencies have credibility. However, investing in some of them can be definitely called highly reliable. CryptoInfoBase holds ETH and bitcoin. We also have EOS firmly in our sights. It is Ethereum and EOS that can become the basis of your micro-investment. If you can buy one coin of each cryptocurrency, this will be a good investment, which will give you the opportunity to allocate money for young alts.
Strange as it may seem, when answering the question of what currency to buy today, we would say Ripple. Judging by how this currency is being traded by top financial resources, we should expect a repeat of the early 2018 success. Most likely, there will be no "to the Moon". There will not be a steadily high price either. Nevertheless, it is worth investing a small sum of money in XRP for $0.5, knowing that it can theoretically be sold for $1–$2 within a year.
We advise you not to choose between investment approaches, but to use both the first and the second ones in 50: 50 ratio.
Remember, wherever you invest money (in bitcoin, in altcoins), a successful investor does not put all the eggs into one basket. Even $100 can be perfectly allotted to different cryptos.
Invest Money and Make Profit
For your investment to make profit, it is also important to allot it successfully. For those who want to invest little money in cryptocurrency, the most convenient is to place their portfolio on Binance exchange. This is due to the fact, that the exchange has a user-friendly interface that allows you to easily monitor the status of your portfolio, as well as quickly make changes there. Look at how your crypto portfolio can look on this exchange.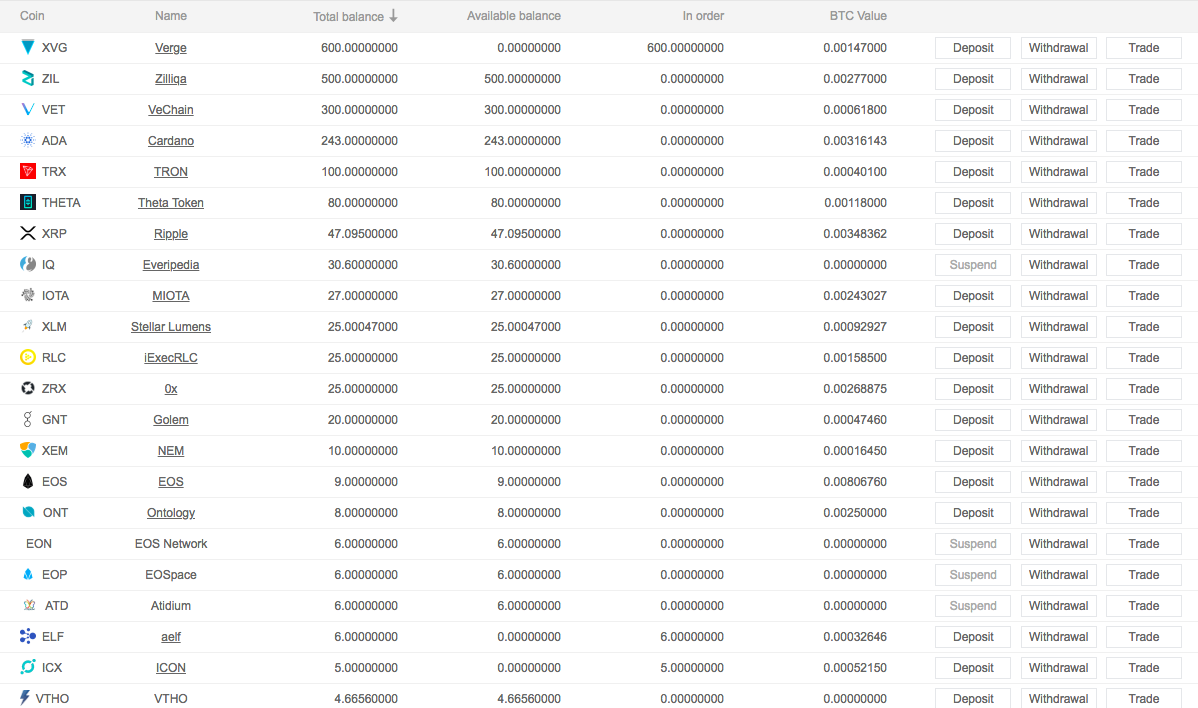 The huge advantage of this exchange is that those who do not want to spend big money on crypto does not have to undergo a strict verification procedure. You can register at Binance and buy crypto immediately.
In addition, new alts are constantly listed on this exchange, which will allow you to make quick reinvestment and get a good profit from short-term investments.
It is important to note that in order to make profit from investing, you need to know the desired price of your portfolio crypt in a certain period of time (month, year), as well as the predicted price. With this, you determine the profit fixation point.
Сonclusions
Let's draw conclusions. Based on the above, we can formulate an algorithm for finding the answer to the question, where you can invest a small amount of money.
Make a firm decision on the amount you are willing to invest in cryptocurrency, for example, $ 500-1000.
Understand that investing a little money you should not expect to buy Lambo soon.
Be prepared to wait and not panic (filter the flow of information garbage and trust only reliable sources).
Choose reliability and invest money in bitcoin for a long period or choose a big profit from alts, while being vigilant to fix profit in time.
Choose the right time to invest (when the cryptocurrency is "at the bottom" according to trading graphs – buy it).
To invest in cryptocurrency makes sense, even if you want to invest a little money (for you). On our website you can follow the news and read the latest reviews of the situation on the market. This will help you not to lose money and learn what to do in order to multiply it.
Disclaimer: We expressed our own opinion about possible purchases on the cryptocurrency market. We described the methods of investing and the ways of choosing coins that we've used personally. However, before making investment decisions, we advise you to do an independent analysis of risks and prospects.